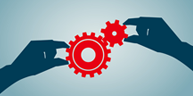 By Bruce Chernof
Make no mistake; the healthcare landscape is undergoing a profound transformation, one that will directly impact the future of community-based aging services. For more than 50 years, little has occurred that radically changed the sleepy silos of traditional healthcare delivery and aging services. There have been incremental steps toward change, such as the Special Needs Plans in Medicare or efforts to rebalance Medicaid services through Money Follows the Person. Are these important steps toward more centered care? Yes. Are they radically transformative? No.
If you are 80, and live alone with serious chronic medical problems and some functional limitations like osteoarthritis and vision loss that limits driving, good luck trying to piece together a solid care plan and a reliable set of supports. Sadly, you are pretty much on your own.
The current model of healthcare and aging services was built for a very different time and place. In 1965, the average life expectancy was 68 years, not 78 years as it is today. Steve Jobs was 10. The first cardiac care unit had just opened. Now, with 10,000 Americans turning 65 each day and living much longer, healthcare and community-based aging services must evolve to respond to these new realities.
Fees Tied to Value, Outcomes
Earlier this year, Health and Human Services Secretary Sylvia Burwell announced that by 2018, 90 percent of fee-for-service (FFS) and 50 percent of all managed care payments will involve alternative payment methods tied to value and outcomes. The recent law to fix how Medicare pays doctors all but ensures this schedule will be kept. Ultimately, this transition from FFS to fee-for-outcomes strives to achieve better care at lower cost, and requires traditional healthcare providers to look far beyond the walls of their hospitals or offices.
To succeed, health plans and their contracted networks must develop far more robust care coordination programs and broaden their networks to include a comprehensive set of non-medical, community-based service providers. Developing these networks isn't easy. Health plan administrators wonder whether to delegate services to contracted providers, or build and manage these extended provider networks themselves. Administrators are still learning the types of services for which they may want to hire contractors, as well as developing perspectives on network adequacy, quality oversight and data-sharing.
What is clear is that community-focused care coordination, particularly at times of transition like from hospital to home, is the linchpin to better care at lower costs. Extending current network models to include community-based providers that can deliver this robust care coordination and manage specific community-oriented services is the immediate challenge.
But the aging services sector does face extraordinary challenges. The vast communitybased aging services network that exists today is built largely on a single funding stream of blockgranted federal programs. However, the Older Americans Act has never been adequately funded for its scope, and in the current political climate, this scenario is unlikely to change. The need for a more diversified funding model is critical for the future.
From a person-centered perspective, aging services can create more connected care delivery and become more outcome-oriented. Community-based organizations can be the "secret sauce" to help healthcare providers achieve better use and outcomes, while creating new sources of revenue.
Community-Based Providers Need to Shift Thinking
For community-based service providers, working with health plans requires reimagining services as specific products that solve challenges faced by the medical delivery system. These relationships represent a new revenue opportunity for community-based providers, but don't replace traditional funding for aging services.
Vanguard community-based organizations, those we believe are ready for this role and put care coordination at the center of their model, can be effective health plan partners. For these organizations to succeed, they need strong commitment from leadership, the ability to transform their infrastructure and the willingness to develop a critical understanding of what the healthcare market needs when caring for older adults with chronic health conditions and daily living needs.
This new role for aging services providers in more integrated, innovative models of care is coming to fruition. At The SCAN Foundation, we have supported more than a dozen vanguard community-based organizations in our Linkage Lab Academy, helping them build dozens of new relationships with local healthcare plans, hospitals and other risk-bearing providers. We are also working with the Administration for Community Living and leading philanthropies—including the John A. Hartford Foundation, the Colorado Health Foundation and the Health Foundation of Western and Central New York—to invest in efforts to help make these models a reality across the country. 
The reasons for creating new partnerships are many and growing. Hospitals already face Medicare penalties for frequent or early readmissions. Many states are implementing Medicare-Medicaid integration pilots and-or transitioning their Medicaid long-term-care programs to managed models. Finally, accountable care organizations are developing innovative approaches to improving care while lowering costs. Community-based organizations can play a major role in these new health system models, while also developing revenue streams that contribute positively to their organization's fiscal health.
It is time for all providers serving older adults having daily functional needs to break out of their silos and connect to create an integrated platform of care. We believe that bringing together the best capacities of the healthcare and aging sectors can deliver on the promise of person-centered care: right care, by the right provider, at the right time, for the right price. 
---
Bruce Chernof, M.D., is president and CEO of The SCAN Foundation in Long Beach, Calif.
Editor's Note: This article appears in the January/February 2016 issue of Aging Today, ASA's bi-monthly newspaper covering issues in aging research, practice and policy. ASA members receive Aging Today as a member benefit; non-members may purchase subscriptions at our online store or Join ASA.