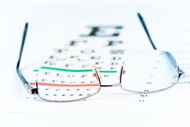 By Jeff Todd
"Your eyesight is the first to go." "It's just part of getting older." Such phrases of acceptance are often heard as we enter our 40s and 50s. Yes, our eyes—our vision—will invariably change as we age; however, through early detection of eye disease and other problems and access to affordable treatment options (including glasses and contacts), our eyesight, and thus our quality of life, doesn't have to be significantly altered.
Eyesight is highly valued across the lifespan; it is central to a child's success in school, an adult's employability, and to sustaining independence as we grow older. Eye health problems have a strong correlation to other health concerns, and according to a recent survey conducted by the Alliance for Eye and Vision Research, Research to Prevent Blindness, and Research!America, recently published in JAMA Ophthalmology ("Public Attitudes About Eye and Vision Health"), Americans across all racial and ethnic lines describe losing vision as potentially having the greatest impact on their life. And yet, vision and eye health challenges remain a largely overlooked public health problem facing our nation.
Challenges to Healthy Vision and Eye Care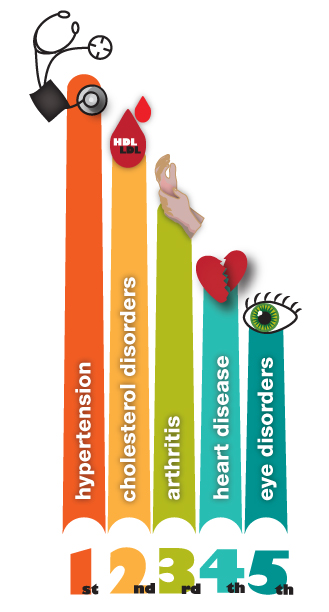 Not only do challenges related to our visual acuity become more frequent as we age, but among people over the age of 40, vision-related eye diseases are increasingly common—cataract (24.4 million); diabetic retinopathy (7.7 million); macular degeneration (2.1 million); and glaucoma (2.7 million). And according to a recent Prevent Blindness report ("Future of Vision: Forecasting the Prevalence and Costs of Vision Problems"), these numbers are likely to increase dramatically in the coming decades due to our aging population and other changes in demographics. This report further details how such an increase in prevalence will also lead to drastic financial implications. In terms of direct medical costs, eye disorders rank fifth among the top eight chronic conditions, with the overall annual cost of vision problems in the U.S. calculated at $145 billion. Without significant planning and intervention, this cost could rise to as much as $717 billion by the year 2050.
As we age, we are also more likely to experience other chronic conditions such as diabetes, hearing impairment, heart problems, hypertension, joint symptoms, low back pain, and stroke at the same time. These multiple conditions can lead to falls, injury, depression, social isolation, diminished health-related quality of life, and premature death. According to a study by Gwyn Jones, PhD, John Crews, DPA, and Melissa Danielson, MSPH in the November 2010 issue of Ophthalmic Epidemiology, among people aged 65 years and older with vision impairment (not blind), 41.7% report fair/poor health, and 54.2% of older people who are blind report fair to poor health compared to 21.5% of older people without vision impairment or blindness. Among the eleven chronic conditions included in the Women's Health and Aging Study, vision impairment occurs as a comorbid condition in six of the ten most common pairs. Advances in research are improving our understanding of risk factors for vision loss and effects that occur in conjunction with vision impairment. However, current approaches do not fully take into account either the broad range of vision disorders and their comorbidities or their consequences for health and quality of life.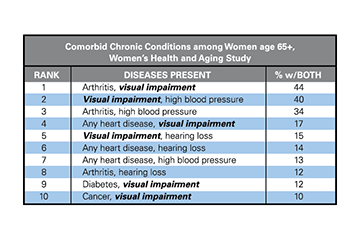 Accessing needed vision and eye health care remains a major public health problem. Evidence suggests that only half of people who are at high risk of serious vision loss and a third of those not at high risk for vision loss obtain dilated eye examinations. Cost, lack of eye care insurance, and lack of eye care providers are consistent barriers to eye care, especially among those aged 40–64 and among African-Americans and Hispanics. Improved assessment tools, education, and outreach initiatives to support earlier identification of vision problems and appropriate referral to eye care in vulnerable populations will result in improved potential for better vision. Without a doubt, timely intervention, improved equity in access, and effective treatment will lead to long term improvements in vision and eye health.
Call to Action
The National Academies of Sciences, Engineering, and Medicine's Health & Medicine Division (formerly known as the Institute of Medicine or IOM) recently issued "Making Eye Health a Population Health Imperative: Vision for Tomorrow." Importantly, this report recognizes that for too long vision and eye health have not received the attention and investment they warrant, given their importance to public health. It goes on to encourage the federal government—and thus, We The People—to issue a call to action to motivate nationwide action toward achieving a reduction in the burden of vision impairment across the lifespan of people in the United States.
The impact that vision problems have on our country's overall health is clear; though a proportionate nationwide response to it remains lacking. It is time for the nation's public health sector to rise to this challenge. By bringing together the resources, knowledge, and experiences of public health associations and professionals, government agencies (local, state, and federal), health care providers, professional organizations, community organizations, businesses, and consumers, collectively we can improve the nation's vision health. By doing so, we not only improve the eyesight of our citizens, but we touch on so many other aspects of their health and quality of life.
Let's come together to ensure that vision loss is not simply an accepted and inevitable part of growing older.
Jeff Todd, JD, MS is Chief Operating Officer at Prevent Blindness, the nation's leading volunteer eye health and safety organization dedicated to fighting blindness and saving sight. Focused on promoting a continuum of vision care, Prevent Blindness works to improve the nation's vision and eye health by promoting advances in public health systems of care that support eye health needs, by advocating for public policy that emphasizes early detection and access to eye care, and by educating the American public on the importance of taking care of their eyes and their vision. For more information on eye health resources for professionals, visit Prevent Blindness's The Focus Initiative, a virtual forum for those working in vision and public health, at http://www.preventblindness.org/resources-professionals.
This article is brought to you by the Editorial Committee of ASA's Healthcare & Aging Network (HAN).