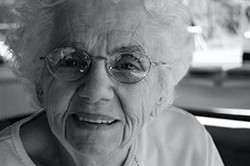 Knowing a person's life story humanizes them in a way that superficial everyday encounters may not. This is the simple but effective concept behind MemoryWell, a national network of more than 700 writers who draft the life stories of older adults to help improve the care they receive, especially in nursing homes or assisted living facilities.
MemoryWell is the brainchild of CEO Jay Newton-Small, who is a contributor to TIME Magazine and for years served as its Washington correspondent. She has written almost a dozen TIME cover articles, and interviewed multiple heads of state, so she knows a thing or two about humanizing people.
A lot of ink has been spilled addressing the need for person-centered care, and many pilots and programs are designed to deliver it. In reality, it can still be hard for harried staff, especially in congregate care settings. Some use family questionnaires to try to get at the essence of a person, but they can be challenging to collect and then go missing when staff need them most. 
Products meant to encourage older adults or their families to draft stories themselves can be difficult as some may write thousands of words about very little and others never start. Newton-Small is convinced MemoryWell holds the answer to getting the right story into the right hands for the optimal person-centered care. And research backs her up on how storytelling can increase empathy, help staff to tailor activities to individuals and create a new way to market residences.
On July 14, 1 p.m. PST Newton-Small is conducting a webinar on the topic, with support from the Archstone Foundation, called "How Storytelling Can Super Charge Person-Centered and Personalized Care."  
Participants will understand the importance and impact of life storytelling for older adults via research showing it builds empathy, reduces depression and improves family and staff satisfaction. Also, attendees will learn how to identify the basic pieces of a life story and apply those storytelling skills in their own communities.
Natural storytellers and people in aging services who hate writing will both learn how simple it can be to elicit someone's life story and get it onto the page in a way that will open the eyes of caregivers. This is a valuable session run by a working journalist and engaging speaker. 
For information and to sign up for this critical webinar, click here.