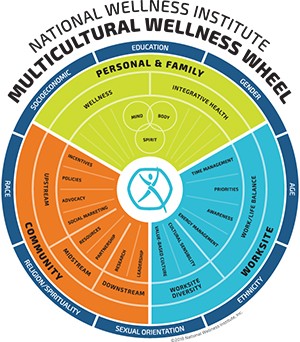 By Chuck Gillespie
When thinking about the terms wellness or well-being, multiple definitions come to mind. Wellness, according to the National Wellness Institute (NWI), is an active pro­cess of becoming aware of and learning to make choices that lead toward a longer and more successful existence—in other words, toward a life worth living.
So, how to achieve wellness? According to Gallup well-being research, physical activity provides adults ages 65 and older with a 32 percent higher positive emotional out­look than for those who are not active. But to have a life worth living, it is critical to look beyond physical wellness; Gallup research also identifies how there can be too much emphasis placed upon the physical dimension of health and well-being.
For example, Steven Hawking had been told in his 20s that he would never see age 30. In 2018, he died at age 76. In 2016, he noted that "however difficult life may seem, there is always something you can do and succeed at." Hawking exemplifies someone whose physical health did not deter him from living. While doing his best to maintain his physical health, he also cultivated intellectual, so­cial, occupational, spiritual and emotional purpose—a life worth living.
The Six Dimensions of Wellness
The basis for such a life begins with focusing on the six dimensions of wellness, which were devel­oped by past and present leaders of the NWI. These dimensions—physical, occupational, social, intel­lectual, spiritual and emotional—strongly influence human well-being.
Physical wellness is the dimension often used to define wellness. Eating right and being active is the rallying cry. Young and old must get a yearly checkup by a primary care physician, a dentist and an optometrist. People with chronic conditions must manage them, and everyone should avoid to­bacco. But there is so much more to wellness.
Anyone who has experienced the stress of being in an unsatisfying job, or who has been em­ployed by a company with a psychically poisonous work environment knows those situations con­sume significant amounts of energy; poor physical working conditions also cause harm. Thus, oc­cupational wellness is critical to well-being. For some, occupational wellness involves whatever work makes them happy. For others, a paid job provides their desired financial and material life, but a working hobby such as gardening, wood-working or fixing cars also can provide satisfaction and enrichment.
The social dimension involves connection to friends and family. Lack of a good social network, loneliness, feeling isolated and not fitting in at home, at work or in a community are major barriers to achieving wellness.
The intellectual wellness dimension means expanding knowledge and skills, while allowing time to discover the potential for sharing one's gifts with others. Humans must be constant learners, not necessarily in the sense of "book smarts," but in learning to find their own unique ways to learn and to teach.
The spiritual and emotional dimensions both are critical to happiness and health. The spiritual dimension recognizes the human desire to search for meaning and purpose in life—exploring the ubiquitous question, "Why are we here?"
The emotional dimension aligns with the other five dimensions by recognizing how each person must try to cultivate a positive outlook—to create enthusiasm about one's self and one's life.
Each dimension holds equal value in a life worth living. But the concepts for each dimension need to be understood in the right perspective. For example, as Hawking overcame his physical obstacles, it is imperative for individuals to understand their own obstacles to overcome.
Social Determinants and Wellness
According to the recent survey by Waystar, "Consumer Perspectives on How Social Determinants Impact Clinical Experience", 68 percent of respondents had social risk-factor obstacles. Healthcare access, housing insecurity, transportation access, food insecurity, safety and health literacy lead the list. The survey shows that much more than medical care affects health and wellness. "The most commonly reported social determinants of health issues are finan­cial insecurity and social isolation," the report's authors write.
Research by the National Institutes for Health shows that with aging, individuals often decline in physical and cognitive function, causing a narrowing of social networks. Further, social isolation is prevalent among individuals who are far from family and friends or who are not near a cultural center to which they feel connected.
Not "fitting in" is an issue many people face. Civil rights legislation in the United States created legal prec­edent regarding discrimination (i.e., around race, religion, gender, disability, etc.) for protected classes, but prior to 1990, people with disabilities were not covered. Thanks to the American's with Disabilities Act, wheelchair users now have access to many venues to which they were pre­viously shut off; this legislation opened up new avenues of social, emotional and intellectual well-being.
Other factors such as geography (where one lives), healthcare access and personal priorities also play a part in individual well-being. For instance, workplace and community wellness initiatives may promote the need to prioritize 60 minutes of exercise per day, but for people living in unsafe neighborhoods who are worried about putting dinner on the table, exercise moves down on the priority list.
A Multicultural Perspective
This type of situation is why the NWI developed the Multicultural Wellness Wheel. The wheel encourages individuals to look beyond their spheres of influence to understand how others might view life. How and where a person grew up, what they do for work, their family environment and "life moments" all influence individual perspective.
The Multicultural Wellness Wheel helps people to understand, without negative judgments, the worldviews of culturally different peoples, and to have respect and appreciation for human differ­ences that enable more positive and effective encounters. NWI Board President and CEO of Altur­native Linda Howard says, "One of the biggest issues we face across the globe is that we do not have a strong multicultural competency model from which to learn. Practitioners and organizations use models that are too focused on one particular issue like race or gender, and as such, fail to reach large segments of the population due to a lack of cultural competency. We see the opportunity to learn from each other through a wider lens that also incorporate such things like religion, disabil­ity, language, age, geography and other cultural factors that are a leading causes of social isolation."
If people can become aware of their beliefs and assumptions about human behaviors, values, biases, stereotypes and personal limitations, they can open up and learn who different cohorts are as "cultural beings." They can better see how cultural socialization shapes worldviews and enhances their ability to connect to and work with culturally diverse populations.
Wellness is a simple, though multi-pronged, concept, which emphasizes a mission of connection. Now more than ever, it is critical to consider overall well-being from a more holistic perspective—in terms of our social connections, physical health, intellectual capacity, occupations and emotional and spiritual coping skills.
Chuck Gillespie is interim executive director of the National Wellness Institute in Stevens Point, Wis.
Editor's Note: This article appears in the March/April 2019 issue of Aging Today, ASA's bi-monthly newspaper covering issues in aging research, practice and policy nationwide. ASA members receive Aging Today as a member benefit; non-members may purchase subscriptions at our online store.