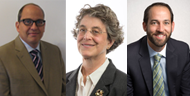 Generations Guest Editors John Rother and Tricia Neuman moderated this conversation with three leading beneficiary advocates to review program shortfalls and strengths, and address strategies to strengthen Medicare for the future. The roundtable discussion included Joe Baker, president of the Medicare Rights Center in New York City; Judith Stein, executive director of the Center for Medicare Advocacy in Willimantic, Connecticut; and, Kevin Prindiville, executive director of Justice in Aging, headquartered in Washington, D.C.
Generations: Each of you leads an organization that advocates on behalf of people on Medicare. Based upon your experience working with beneficiaries covered by the program—both older adults and younger beneficiaries with disabilities—can you tell us what you see as the greatest challenge facing people on Medicare today, and what do you see as the greatest challenge for beneficiaries in the future?

Joe Baker (JB): The Medicare Rights Center answers more than 1.5 million questions each year through counseling and online resources, and we find clients flummoxed by the complexity of their choices for Medicare coverage—both in navigating the sheer number of choices (e.g., an average of thirty Part D plans) and making effective comparisons among plans. We need to provide more insurance counseling resources and tools, and continue to streamline choices to plans, with meaningful differences and value. The future challenge facing most beneficiaries (and many now) is affordability. Today, half have annual incomes of less than $23,500, and the forecast is not improving. Yet many proposed Medicare reform proposals involve increasing costs or cutting benefits in the name of deficit reduction or Medicare's "sustainability." Ironically, while these "reforms" may make care inaccessible for many, they also scapegoat Medicare and don't get at the real root of our problem—the rising cost of healthcare across the entire system.

Judith Stein (JS): Medicare continues to be a blessing for beneficiaries and their families. It means that most older people and people with disabilities have basic health insurance, and families generally don't have to worry about paying for their relatives' healthcare. But, as Joe discusses, Medicare has also become too complex for many people to understand, and the cost-sharing is increasingly expensive. Also, those who need healthcare coverage most— people with disabilities, and long-term and chronic conditions—too often are denied coverage for services that should be covered under the law. The Center for Medicare Advocacy hears from thousands of people in this situation every year. Many people can't appeal unfair denials or get a meaningful appeal. This is all very important for today's Medicare beneficiaries and for continued confidence in and commitment to the program. As a long-time advocate for Medicare beneficiaries and the Medicare program itself, I find this worrisome.

Kevin Prindiville (KP): Judy and Joe are both right: complexity, affordability, and inappropriate service denials are huge challenges for beneficiaries. I'll add two more that we've seen in our advocacy on behalf of low-income Medicare beneficiaries. The first is that Medicare is not meeting the long-term services and supports (LTSS) needs of beneficiaries, in large part because it was not originally designed to do so. Medicare's coverage of LTSS is extremely limited and provided primarily in nursing facilities. A growing number of Medicare beneficiaries have LTSS needs, and they want to have those needs met at home and in the community. Medicare needs to respond to that reality. The second challenge is access to culturally and linguistically appropriate services for an increasingly diverse Medicare population. Programs must be designed to meet the unique needs of communities of color, those with limited English proficiency, and lesbian, gay, bisexual, and transgender beneficiaries.
Generations: Health insurance coverage in the country is obviously changing, with the implementation of the Affordable Care Act (ACA), the emergence of federal and state marketplaces with tax credits for low- and middle-income people, and the expansion of Medicaid. What are the implications of these changes for people on Medicare?

JS: The ACA opens important doors to coverage for many Americans who have been unable to obtain insurance and access to healthcare. While the marketplace model is not what we would have chosen, the ACA is a boon to millions who have been uninsured. However, some of the ACA's best features will create new tensions for people who become eligible for Medicare.
On the one hand, people can get health insurance through the ACA, even if they have pre-existing conditions. Lower income people can get help paying for premiums, tax credits, and, in some instances, additional assistance through an expanded Medicaid program. This means a lot of people with chronic conditions can get health coverage. It means people with significant disabilities will not have to go without insurance for two years while waiting to qualify for Medicare. It also means greater access to healthcare for people who have been shut out due to the high costs of insurance. That's all good.
On the other hand, when these same people become eligible for Medicare, often they will lose help paying for coverage and may have a reduced benefit package from that which they obtained under the ACA. Further, moving from an ACA plan or "expanded-Medicaid" to Medicare often will be fraught with complications. So, ironically, people who have been thrilled to become Medicare-eligible in the past may now be dismayed. I fear this will not only be tough on the individuals and families involved, but also may reduce public support for Medicare.

KP: Judy is right. The ACA introduces historic changes to our healthcare system that open new doors to coverage for individuals not yet eligible for Medicare. It also introduces new levels of complexity for people as they transition from those new coverage options to Medicare coverage.
Low-income older adults and people with disabilities will face the most difficult transitions. In states that adopted the Medicaid expansion, Medicaid eligibility rules are now more generous for people before they qualify for Medicare. The income limit is higher than it is for those with Medicare coverage and there is no asset test. In addition, those who have income too high for Medicaid receive significant subsidies to help pay the premiums of plans they purchase in state-based or Federal Exchanges.
When individuals who were getting coverage through the Medicaid expansion, or with the benefit of premium subsidies, become Medicare-eligible, they will lose access to that cost-sharing assistance. Their healthcare costs will jump significantly.
To ease this transition, we need to use the ACA as the new standard for providing assistance with healthcare costs across all populations. Income limits for the Medicaid and Medicare cost-sharing programs Medicare beneficiaries rely on (traditional Medicaid, Medicare Savings Programs, the Low-Income Subsidy) should be raised to levels that match those for people not yet eligible for Medicare. Asset limits in these programs should be phased out.

JB: Before the ACA, the Medicare Rights Center regularly spoke with people ages 55 to 64 who had no affordable coverage options, and were gasping to get to Medicare. For these people, the ACA is life-changing, as Judy and Kevin note.
Comparing Medicare to the Marketplace plans gets tricky, as we don't have good actuarial comparisons yet, and there are individual preferences to weigh. We helped someone with a subsidized Marketplace plan to enroll in original Medicare [sometimes called traditional Medicare] and a Medigap plan, and he was relieved to now have access to most doctors and hospitals in the country.
The points raised about transitions between coverage are critical. We counsel people who erroneously delay Medicare enrollment, resulting in premium penalties and gaps in coverage. Rules governing when to enroll in Medicare can be complex. Top priorities for policy makers should include accurate and timely notice about enrollment for people new to Medicare, and clear guidance to insurers about how Medicare and Marketplace plans interact.
Generations: Medicare is forging ahead with new delivery systems that could change the way care is provided under Medicare. How prepared are Medicare beneficiaries for these changes? What more can be done to help Medicare beneficiaries navigate the evolving delivery system?

KP: Our healthcare delivery system is undergoing massive transformation, and Medicare is leading the way. New models for delivering care, paying for care, integrating care, and measuring care quality are under development. Perhaps the largest changes are happening for dual eligibles—Medicare beneficiaries who also qualify for Medicaid. In a number of states, dual eligibles are being passively enrolled into new managed care plans responsible for integrating Medicare and Medicaid benefits.
While many of these changes—including the dual eligible demonstrations—hold great promise, we are finding that Medicare beneficiaries are ill-equipped to navigate them. It is difficult for typical Medicare beneficiaries to understand whether and how enrollment in a new model of care may impact their relationship to trusted providers or their access to needed services, like prescription drugs. Medicare beneficiaries need both more information and more assistance in understanding what delivery system changes mean for their day-to-day access to care.

JS: As Kevin notes, the morphing of the uniform Medicare program into many delivery systems creates confusion and difficulties for beneficiaries. Beneficiaries now need to decide each year how to obtain their coverage. They need to decide whether to proceed with traditional Medicare along with a Medigap supplement and a Part D drug plan, or proceed with a private Medicare Advantage plan. To do this right, people have to anticipate their health needs for the coming year and also know about, and consider, what programs may be available to help them pay premiums and copayments. The Center for Medicare Advocacy and our partners do all we can to help. But, I agree with Kevin that Medicare beneficiaries need more information and, most importantly, more assistance to help with all these decisions. Further, once they have made their choices, beneficiaries also need help ensuring Medicare coverage is properly provided for necessary care. Unfortunately, that assistance is sorely limited, while coverage denials are frequent.

JB: Like Kevin and Judy, I agree that Medicare beneficiaries struggle to navigate an increasingly complex and ever evolving Medicare program. The delivery system reforms now being tested as part of the ACA hold tremendous promise for seniors and people with disabilities, namely to enhance healthcare quality. In the midst of this change, it is important to consider the existing infrastructure available to support beneficiaries and how we can improve that system, including 800-MEDICARE, Medicare.gov, the Medicare & You Handbook, the Plan Finder, the State Health Insurance Assistance Program (SHIP) network, and more. As the on-the-ground, go-to counselors for Medicare beneficiaries, the SHIPs are pivotal. Even so, this critical SHIP resource remains significantly underfunded year after year. Changes to Medicare delivery systems should go hand-in-hand with resources to strengthen beneficiary education and assistance.
Generations: People on Medicare face many health plan choices, including Medicare Advantage plans, Part D plans, and various forms of supplemental coverage. The idea is that beneficiaries will choose among plans that will best meet their needs, and make changes during the open enrollment period if their needs (or plans) change. How well is this working for people on Medicare? Are there policy actions that can be taken to encourage optimal decision-making by beneficiaries?

JS: As reported by the Kaiser Family Foundation, most people who make a choice regarding their Medicare delivery system don't change it. That's one of the big problems with all the options. Whether it's the confusion of too many choices, the fact that Medicare beneficiaries are older and often infirm, or simple inertia, people often don't change even if what they have isn't a good match. This is especially true if a healthy person chooses a Medicare Advantage plan and remains in the plan after he or she becomes ill or injured. Then the plan's limited provider network and coverage rules likely will not serve as well as traditional Medicare. By the same token, the Part D plan a person appropriately chooses one year may not cover her medications in the next. If we are going to continue all these options, beneficiaries should be given more latitude to switch if they, or their plan, experience significant changes. We also ought to include a drug benefit in traditional Medicare and offer a valuable, low-cost Medigap option. There are many other protections that would help, but these would be a good start.

JB: Like Judy, we find that most beneficiaries are overwhelmed by a dizzying array of Medicare Advantage and Part D plan choices. Choices within traditional Medicare are more streamlined and generally less confusing to beneficiaries. Still, there are ways traditional Medicare choice could be strengthened. Notably, most beneficiaries are afforded a single opportunity— when they first become eligible—to enroll in a supplemental Medigap plan. Ongoing or annual open enrollment for all Medigap plans nationwide would be a positive step forward. Similarly, there is no prescription drug coverage in traditional Medicare, only a range of private options. We have long supported the development of Part Extra (Part E), a publicly administered supplement to traditional Medicare that wraps together supplemental outpatient and inpatient, and public prescription coverage. Part E would provide a more robust public option and another comprehensive choice, like a Medicare Advantage plan with Part D or traditional Medicare with Medigap and Part D.

KP: Low-income Medicare beneficiaries have been particularly impacted by the increased reliance on plans and plan choice within the program. For example, despite the plethora of Part D plans on the market today, the number of plans that Part D Low-Income Subsidy recipients can join without facing a monthly premium actually is decreasing. As a result, according to the Kaiser Family Foundation, in 2014, more than 1.2 million Low-Income Subsidy recipients were in plans where they had to pay a premium. That's not an efficient system. More work needs to be done to ensure that low-income beneficiaries have quality Part D plans to choose from, and that those plans are stable from one year to the next.
Generations: If you could wave a wand and make one change to Medicare to strengthen the program for the future, what would it be?

KP: Oh, the magic wand. So magical, but only capable of one change. If we had to pick one change, it would be to make healthcare more affordable for lower income beneficiaries. The numbers of seniors facing financial insecurity is great and growing. High healthcare costs push more seniors into poverty and act as a barrier to accessing care. To address that problem, we would increase the income limits for the Medicare Savings Programs and the Low-Income Subsidy to at least 200 percent of the Federal Poverty Level. We would also eliminate the asset test for these programs. These changes would better align the subsidies we provide people on Medicare with those currently available to other populations.

JB: I absolutely agree that making healthcare more affordable is the top concern for people with Medicare, both for low- and middle-income beneficiaries. Too often, the Medicare Rights Center hears from beneficiaries who suddenly become ill and are quickly saddled with healthcare costs too high for their modest incomes. Proposals to combine the Medicare Part A and Part B deductible, to add a catastrophic cap, and to restructure cost-sharing are politically popular, but it is rarely acknowledged that most beneficiaries will likely face higher costs under these simplification schemes. A better idea would be to introduce Medicare Part Extra, or Part E. This publicly administered, supplemental insurance would be financed through beneficiary premiums and wrap around traditional Medicare. Part E includes a modest deductible, a catastrophic cap, tandardized copayments, and prescription drug coverage. I would wave a magic wand to create Part E, paving the way for simpler and more affordable benefits through traditional Medicare.

JS: Not surprisingly, I agree with Kevin and Joe: Our shared goal is to create a simpler and more affordable benefits package through traditional Medicare. But, having waited thirty years for a Medicare magic wand, how can I possibly choose one thing to get us there? I can't.
So, here's my quick (abbreviated) list: Save Medicare real money by completely equalizing payment for Medicare Advantage with traditional Medicare, negotiating drug prices under Part D, reinstating drug rebates for dually eligible people, and eliminating the second level of Medicare appeal (Reconsideration). Use the tremendous savings from these initiatives to add a prescription drug benefit to Part B, provide adequate resources and proper training to Medicare appeal contractors, cover home health aide services without a skilled-care requirement for people who are dependent in two to three activities of daily living, and remove the three-day hospital requirement for Skilled Nursing Facility coverage.
---
Editor's Notes:
The entire Summer 2015 issue of Generations is available on AgeBlog thanks to the generous support of The Benjamin Rose Institute on Aging, Compassion & Choices and Robert Wood Johnson Foundation President's Grant Fund of the Princeton Area Community Foundation. Click here to read more.
This article is taken from the Summer 2015 issue of ASA's quarterly journal, Generations, an issue devoted to the topic, "Medicare at 50." ASA members receive Generations as a membership benefit; non-members may purchase subscriptions or single copies of issues at our online store. Full digital access to current and back issues of Generations is also available to ASA members and Generations subscribers at Ingenta Connect. For details, click here.