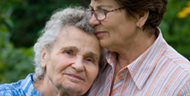 By Cathy Croghan
Having an informal caregiver significantly helps elders to avoid nursing home placement and remain in the community as they age. The unpaid care provided by an informal caregiver, in contrast with formal caregiving by paid staff (nurses, social workers, home health aides and personal care attendants) is performed by a relative, partner, friend or neighbor. This sort of caregiving is the central platform of the U.S. social service and healthcare plan to address the needs of the rapidly growing population of older adults. Informal caregiving had an estimated annual value of $450 billion in 2009. Because of this, there is considerable interest in developing programs and services that support these essential members of the nation's care plan for older adults.
In the broader community 65 percent of caregiving is performed by women—wives, adult daughters and daughters-in law—with assistance sought first from a spouse, followed by adult children, other relatives and neighbors and friends, in that order. This hierarchical pattern, first identified by sociologist Ethel Shanas in the 1970s, reflects traditional family structures and is less appropriate for the older LGBT community, which is less likely to have children and partners than is the larger population, and in most states still cannot marry a same sex partner. Also, LGBT elders are often reluctant to seek caregiving assistance from extended family members because they are estranged.
What does informal caregiving look like in the middle-age and older LGBT community?
A 2012 Minneapolis–St. Paul Metro Area study looked at caregiving experiences in the LGBT community as a whole and among subgroups by sexual orientation, gender, gender identity and in relation to the larger community. Study results showed, much as did other studies across the country, that one size does not fit all when considering access to caregiving resources and support for caregivers in the community.
Less access to traditional caregivers
Compared to the larger Twin Cities population, LGBT elders were less likely to have a partner or spouse (60 percent compared to 66 percent) and two and a half times less likely to have children (35 percent compared to 85 percent). But a more nuanced look at the community showed gay men and cisgender men were more likely to be single, and lesbians and cisgendered women were less likely to be single. In fact, bisexual women, bisexual men, trans women and cisgender women and lesbians reported being partnered at rates higher than the larger population.
Within the LGBT community, gay men were less likely to have children, while those older than 65 years of age, bisexual men and women and transgender women were more likely to have children. Access to traditional caregiving support in the LGBT community is not equal across all populations.
Less likely to have an available caregiver
While 90 percent of the larger population could identify a potential caregiver, only 76 percent of the LGBT older adult community could do the same. Looking at differences within LGBT community sub groups, gay men, cisgender men and transgender men reported the lowest rates of available caregivers, while bisexual women and bisexual men had rates approaching those of the larger population. As having a caregiver is a key indicator for remaining at home and in community, those without a caregiver are at greater risk for residential placement. The Minnesota study also found that 73 percent of those who were able to identify a potential caregiver identified a non-kin caregiver—a partner, friend or neighbor. We know caregiving is a stressful role and there are fewer supports available to non-kin caregivers. Fewer supports translate into higher caregiver stress, with poorer outcomes for the caregiver and increased nursing home placement for the care receiver.
More likely to rely on non-kin caregivers
Like the larger population, a partner or spouse was most frequently named as a potential caregiver (96 percent). For those without a spouse, the most frequently identified caregiver was a friend or neighbor (46 percent) followed by children (20 percent), other relatives (19 percent) paid service providers (10 percent) and parents (6 percent). Because 40 percent of the LGBT community reported not having a partner or spouse, non-kin caregivers represent a significant segment of caregivers for those in the LGBT community.
Caregiving still primarily a job for women
The study showed caregiving being performed by all segments of the LGBT community. However, like the larger community, the majority of caregiving remains work that is identified with women, with lesbians, bisexual women and transgender women doing the majority of caregiving. Both gay men and cisgender men reported the lowest rate of caregiving. A higher rate of female caregiving has been found in other LGBT aging studies. However, the MetLife (2010) study of baby boomers showed men and women equally providing caregiving.
More likely to be a caregiver and a non-kin caregiver
LGBT middle-age and older adults reported serving as caregivers at a rate almost twice that of the general population (22 percent compared to 13 percent) and caring for friends and neighbors more than twice as frequently (31 percent compared to 13 percent). This high rate of caregiving and non-kin caregiving points to the importance of focusing on how to support the LGBT caregiver.
Community at higher risk for institutional placement
Almost one in five (18 percent) of study respondents were living alone, without an identifiable caregiver. In Minnesota, these two conditions are recognized as critical indicators for risk of nursing home placement and are two of seven risk factors used in the Live Well at Home Rapid Screening Project developed by the Minnesota Department of Human Services. The presence of two or more of the seven risk factors identifies an individual at higher risk for institutionalization.
Caregiving is a common activity within the middle-age and older LGBT community, encompassing both caring for legally identified family members as well as a significant proportion of non-kin caregiving for friends and neighbors. What do senior service providers need to know to better assist LGBT caregivers?
Offer LGBT-welcoming services
A long history of discrimination has left LGBT older adults fearful of being denied services or receiving poor quality services. They are often wary of providers and reluctant to access services. Aging services providers need to ensure their organization and staff has the knowledge and skills to offer welcoming and respectful services for all clients, including LGBT elders. Resources and training are available to help organizations understand the issues of LGBT aging and how to create services that support the LGBT caregiver. The National LGBT Aging Resource Center is a good place to find caregiver resource materials and staff training opportunities, including their national training program and a number of regional training programs such as Training to Serve in the upper Midwest and Project Visibility in Boulder, Colo.
Know how resources apply to the LGBT community
There are two important pieces of legislation to support caregivers: the Family and Medical Leave Act (FMLA) and the National Family Caregiver Support Program (NFCSP). Knowing how these and other available resources apply to LGBT families will greatly improve an organization's ability to assist these clients.
The FMLA requires public and large private employers to grant up to 12 weeks of unpaid annual leave to care for a spouse, child or parent (except in-laws). This is a significant tool that gives caregivers flexibility and a job guarantee. An LGBT caregiver may benefit if caring for certain members of their legally defined family (i.e., spouse, child or parent [excepting in-laws]). Although some states have laws on family and medical leave that recognize family-of-choice caregivers (e.g., California), most do not. LGBT caregiver clients should be encouraged to inquire if their employer offers these benefits.
The NFCSP funds programs that support family and other caregivers. By including "other caregivers," this legislation acknowledges that people not legally related to the care recipient perform a significant portion of informal caregiving. Although this program does not specifically recognize LGBT families, it allows for support of the many caregivers not legally defined as family. The caregiver support provided through the NFCSP includes funding for information, training, individual counseling, support groups and respite care. Half of supported caregivers report they would have had to consider nursing-home placement were it not for support from the NFCSP. It is an important tool that caregiver support organizations have at their disposal to assist LGBT caregivers. Unfortunately, many LGBT elders and service providers are not aware that the program's inclusive language means LGBT caregivers are eligible for NFCSA funded programs.
Encourage Legal Documents
LGBT caregivers need to create legal documents to facilitate their ability to care for their loved one. These may include medical and financial powers of attorney and advanced healthcare directives. Also, while there is considerable change in the availability of legal same-sex marriage, it is still not legal in more than half of the states.
People often ask, "What's different about LGBT caregiving?" There are more similarities than differences. All caregivers are doing a much needed and very difficult job. They allow the care recipient to remain in the community longer, and they save us all vast sums of money that would otherwise be spent to support institutional care. The most important difference is that there are fewer infrastructure supports available to assist LGBT caregivers. Knowing which are available and how to access them for your LGBT clients and families is an important step in making your agency welcoming and inclusive to all, including the LGBT community.
Further Reading:
"Friends, family and caregiving among midlife and older lesbian, gay, bisexual and transgender adults." By Croghan, C., Moone, R., & Olson, A. 2014.
---
Cathy Croghan, MS, M.P.H., R.N., is a geriatric community health consultant, researcher and public health nurse in Minneapolis–St. Paul, MN. She also serves on the Training to Serve Board of Directors (www.trainingtoserve.org). Contact her at crogh001@umn.edu.
This article was brought to you by the editorial committee of ASA's LGBT Aging Issues Network (LAIN).
Help us improve AgeBlog and rate this post by clicking here!