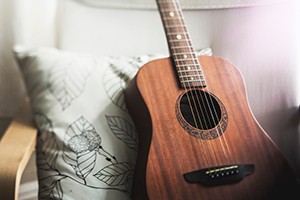 By Joshua Berrett
The past few months have posed unprecedented challenges for lifelong learning. What follows is a description and assessment of an evolving, often chaotic situation, especially as it pertains to music. The only certainty is uncertainty. Drawing upon personal anecdotal experience and selected initiatives, evidence points to varying degrees of success as many people struggle to adapt to new or unfamiliar technologies using Zoom, Instagram, Facebook and others. 
For the past seven years, I have immensely enjoyed teaching classes in music at the Lifetime Learners Institute in, Norwalk, Conn. The students are working and retired adults older than 50 who have a desire to learn and a broad range of life experiences to share. It has been deeply gratifying to see my classes fill to capacity and my "groupies" returning for more stimulation and challenge.
All that changed in early March, when my eight-week course on George Gershwin, together with 36 others—on topics ranging from drawing flowers, to the court system, to a history of Saudi Arabia—were summarily cancelled. At this point it is unclear when things will reopen. Scaling up the infrastructure for presenting courses online remains a work in progress. 
Personally, I've been performing live music, which during these COVID-19 times has brought its own special rewards. As a member of the first violin section of the St. Thomas Orchestra, program annotator and board member, I have found the experience to be profoundly engaging. The group is semi-professional and intergenerational, with players ranging from age 15 to about 85. Forced to cancel our spring season in early March, we moved to a series of Sunday night Zoom salons. Featured quite often has been our conductor-cellist, performing with his son at the piano, or the leader of our viola section presenting one of her students. 
On the more academic front, I'm teaching an online Sociology of Music course—ongoing for some 20 years—offered as an elective to behavioral science majors at Mercy College. The group is intergenerational, with students typically ranging in age from their late teens to their early 50s. The course is organized topically under such headings as music and memory, sexuality and gender, ethnicity, music in the political arena and so on. Under the category of Internet and social media, I added to the menu a question about musical responses in Europe and the United States to COVID-19.
In Europe, one of the first professional musical groups to go virtual, and viral, was the Rotterdam Philharmonic in its March 20 rendition of "An die Freude," the "Ode to Joy" from Beethoven's Ninth Symphony. Its four-minute video shows 18 musicians playing together, culminating in the entrance of a pre-recorded choral track. Simply titled "From us, for you," this video has drawn close to a million views on the orchestra's YouTube page. Even more compelling, it has highlighted cutting-edge developments underway in The Netherlands with regard to senior housing, "dementia communities" and more.
Then there is the remarkable "#Songs of Comfort" series initiated by the iconic cellist-activist Yo-Yo Ma. He has now moved way beyond his stellar achievements as soloist, chamber musician, and performs as a crossover artist working with people like Mark O'Connor and in bluegrass, country and jazz styles, or performing the tangos of Astor Piazzolla. 
Interviewed March 24 by Jeffrey Brown on the PBS Newshour, Ma struck a chord with his comment about how a virus travels across the globe, and knows no borders and no boundaries. He stressed the polystylistic, intergenerational nature of responses to the pandemic seen so far, citing such examples as the video of two young doctors from the Mayo Clinic, the submission by the lead singer from the Lebanese rock band Mashrou' Leila, and two young women from Ireland and Germany singing in sync.
Eric Whitacre and his Virtual Choir belong in a category all their own. Begun in 2009 as a simple experiment in social media, when a young woman and fan of Whitacre's music recorded a video of herself singing his song "Sleep" and shared it on YouTube. The Virtual Choir soon became a global phenomenon, "creating a user-generated choir that brings together singers from all around the world." Their videos are synchronized and combined into one single performance to create the Virtual Choir. Whitacre has since updated his modus operandi to meet the challenges posed by the COVID-19 crisis, as you can see in the link above.
Last, but not least, there are self-help strategies for those sheltering in place –things to do on one's own or with the help of a family member, friend or health aide. These are strategies involving all senses, not only sound.
May all be stimulated and grow in resilience as we enter uncharted territory!
---
Joshua Berrett, PhD, is retired after more than 40 years teaching in higher education. He teaches courses at the Lifetime Learners Institute at Norwalk Community College in Connecticut, and with his wife teaches brain fitness and well-being through music via their Music and Happiness blog.