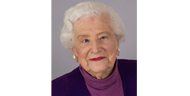 Interview by Tricia Neuman, Guest Editor
Dr. Dorothy Rice, 92, was director of health insurance research at the Social Security Administration when Medicare was created. In this interview with Generations Guest Editor Tricia Neuman, Rice reflects upon her research and life's work in the healthcare sphere. Neuman devised and posed the questions.
Tricia Neuman (TN): Dr. Rice, you were very much on the scene during the exciting period in health policy when Medicare was launched. Since then, Medicare has done so much to provide health and economic security for older adults and people with disabilities. It must have been a very exciting time.
Dorothy Rice (DR): Indeed, it was the most exciting time of my long career. First, I want to say how fortunate I am to have lived these past five decades to celebrate the 50th anniversary of the enactment of Medicare and to have witnessed the passage of the Affordable Care Act of 2010 that provides health insurance coverage for low-income individuals—an important step toward universal health insurance coverage in the United States.
TN: To get us started, can you remind Generations readers why Medicare was created in the first place?
DR: Medicare has a very long history. It goes back to the passage of the Social Security Act of 1935 when President Roosevelt eliminated the provisions for health insurance coverage for retirees from the Social Security package almost at the last minute, because he was afraid it would jeopardize passage of his Social Security program. Just think how different the history of national health insurance in the United States would have been if Social Security had included health insurance coverage in 1935!
During the ensuing years, there were several national health insurance legislative proposals that were defeated including:
The Wagner-Murray-Dingel bills introduced in 1943 and onward through the next decade;
President Truman's plan for compulsory health insurance, introduced in 1945; and,
President Nixon's proposed comprehensive health insurance plan (CHIP), introduced in 1974.
Focus on the health needs of the elderly began around 1960 when the Kerr-Mills Act created the Medical Assistance for the Aged (MAA) program. This means-tested grant program provided federal matching funds to states that chose to cover the "medically needy" aged population. However, many states did not participate in the program, leaving many low-income elderly persons in need of coverage for their medical problems.
With the election of Lyndon Johnson in 1964, the Democrats controlled the presidency and both houses of Congress. The Administration introduced a revised King-Anderson bill, providing limited coverage of hospital and nursing home benefits with Social Security financing. Wilbur Cohen, Assistant Secretary
for Legislation in the Department of Health, Education, and Welfare, convinced President Johnson to give the bill high priority.
The American Medical Association (AMA) opposed the bill because it did not cover physician services. It pushed Eldercare, a proposal that provided government financing for physician services. Representative Wilbur Mills, Chair of the Ways and Means Committee, suggested combining provisions of the King-Anderson bill and the AMA-backed the proposal for coverage of physician services.
The legislation that was finally passed by Congress created Title XVIII, known as Medicare, [which] included Part A, [and which] provided hospital insurance benefits for the aged, and Part B, [which] provided supplementary medical benefits. Title XIX, known as Medicaid, provided federal matching funds to cover comprehensive health benefits for low-income individuals. On July 30, President Johnson signed the bill into law.
In 1964, I was employed as a social science analyst in the Division of Research [at the] Social Security Administration (SSA). I was assigned the responsibility for analyzing the health portion of the 1963 Survey of the Aged. The findings were published in the Social Security Bulletin in July 1964 (Rice, 1964). We found that half of the aged population had no insurance of any kind to help them meet the high cost associated with illness. That information was used by both the Democrats and the Republicans in their arguments and debates during the passage of Medicare. It was a very exciting time for me to see that my data were so useful in the debates about the need for Medicare.
TN: You were personally involved in monitoring the implementation of Medicare. Can you take us back to July 1966, and the first few months of implementation, and describe what happened?
DR: Medicare went into effect on July 1, 1966, which fell on a Friday and on the July 4th weekend. Commissioner Robert Ball was concerned that many elderly sick people would turn up at crowded hospitals on July 1, the day they became eligible for Medicare coverage. He directed a study be conducted to identify areas throughout the United States with high hospital occupancy. At that time, I was Chief of the Health Insurance Research Branch in [the] Office of Research and Statistics [at the] Social Security Administration. My office was given the assignment.
My assistant, Barbara Cooper, and I, and one other staff member, laboriously went through the American Hospital Directory that lists all hospitals and their occupancy for the past year. There were no computers at that time. A room with a very large map of the United States was designated in the Baltimore Office of the Social Security Administration. We identified those areas with 95 percent or above hospital occupancy with a red push pin; those with 90 percent to 94.9 percent rates blue pins, and so on.
The regional offices of SSA had the responsibility for implementation of Medicare at the local level. These offices were directed to stay open over the July 4th weekend to handle potential problems with elderly beneficiaries. Top staff also were directed to come to work over the weekend. Telephone lines were kept open. And we waited, and waited, and waited, and not one call was received. We had not anticipated that doctors do not admit patients on weekends and holidays. In addition, new hospital residents begin their rotation on July 1 and patients are reluctant to be taken care of by fresh new doctors.
I think we were relieved that Medicare started without any major problems. But my office had done a lot of work in preparation for a crisis that never emerged when Medicare went into effect.
TN: Can you contrast the beginning of Medicare with the beginning of the Affordable Care Act?
DR: We remember very well the many computer problems applicants for health plans had in choosing a plan that would meet their individual needs under the Affordable Care Act (ACA). Eventually these computer problems were solved, but many people were frustrated by their experience. Hopefully, the program is running smoothly now.
The implementation of Medicare was quite different. Under Medicare, all Social Security beneficiaries were automatically covered for Part A benefits. There were no applications necessary. Part B is voluntary, so beneficiaries had to indicate whether or not they wanted to be covered for medical benefits. In fact, 97 percent of Medicare beneficiaries chose to be covered by both Parts A and B. Medicare cards were mailed to each beneficiary using their Social Security numbers.
TN: From the perspective of someone with both professional and personal connections to Medicare, what would you say are Medicare's greatest achievements?
DR: There are so many important achievements that can be attributed to Medicare. Among the greatest are:
Medicare has contributed significantly to a better quality of life for older persons and to those with disabilities;
It has increased access to healthcare services;
It has reduced the financial burden of the high cost of medical care among the older population;
It has increased life expectancy;
It has reduced poverty among the older population;
It has provided an array of preventive services;
Prescription drug benefits have been added;
Opportunities for innovative payment approaches are available and are being studied; and,
The hospice program, added to the program, has provided important options to terminally ill patients.
TN: What do you see as the highest priorities for improvement? If you could go back in time and talk to the architects of Medicare, would you recommend any changes to the program that would have addressed some of the shortcomings you see today?
DR: Here are a few suggestions for improving Medicare:
Combine Parts A and B of Medicare: Currently, and in the past, almost all Part A beneficiaries also have purchased Part B. Why not combine Parts A and B, certainly their benefit structures, but perhaps even their financing? To give a single example, it really doesn't make any sense to have separate deductibles for hospital and physician services.
Establish a Medicare out-of-pocket maximum: Currently, Medicare B has no out-of-pocket maximum. This means if you have large Medicare bills, you would have to pay possibly catastrophic amounts unless you have a supplementary health insurance plan. In this respect, employer-sponsored private insurance for the working-age population is better than Medicare, because it nearly always includes an out-of-pocket maximum. Establishing an out-of-pocket maximum would also dramatically reduce the need for Medigap policies.
Allow the federal government to negotiate with drug companies: Medicare Part D prohibits the federal government from negotiating discounts with drug companies. This enables the drug companies to set drug prices at unacceptable high [levels] compared with other developed countries. It is time to reduce the high cost of drugs for Medicare beneficiaries as well as for the federal government.
Skilled nursing home benefits: Currently, Medicare Part A covers the first twenty days of skilled nursing care after a three-day inpatient hospital stay. Then a per day co-insurance for days twenty-one through 100 is paid by the patient. After 100 days, all costs for each day are paid for by the patient. The cut-off after 100 days is arbitrary and should be eliminated.
TN: After Medicare was enacted, did you think that national health insurance would follow?
DR: When Medicare and Medicaid were enacted in 1965, we were certain that national health insurance would follow closely. We could look around the corner and see it coming. Unfortunately, a variety of financial and economic factors intervened and delayed such action for many years. 
Medicare went into effect on July 1, 1966, and medical care prices rose rapidly in 1966, the fastest in many years. Our first report published in February 1967 was A Report to the President on Medical Care Prices. It pointed out that the major cause for concern was that Bureau of Labor Statistics index medical care prices rose 6.6 percent in 1966, the largest in many years. The index of hospital room rates went up 16.5 percent, an incredibly high rate of increase.
The 1966 acceleration was identified as primarily related to rising wages in a tight labor market, and increases in the prices of the things that hospitals buy. Physicians' fees and drug prices also were identified as rising rapidly. The recommendations included the establishment of a National Center for Health Services Research and Development, "to discover and disseminate new ways of delivering health care efficiently," the development of the group practice of medicine, and strong federal support for state and area-wide planning for the efficient use of health services.
Both President Nixon and President Clinton proposed comprehensive national health insurance proposals, but they did not survive. Finally, in 2010, Congress enacted the Affordable Care Act, which provides health coverage for almost all Americans. This legislation represents the most significant overhaul of the U.S. healthcare system since the passage of the Medicare and Medicaid. It introduced a number of mechanisms, including mandates, subsidies, and insurance exchanges meant to increase coverage and affordability of health insurance for the population under age 65.
TN: You have been fortunate to have lived fifty years since Medicare and Medicaid were enacted. What do you predict for the next fifty years?
DR: Just as there have been significant changes in the Medicare programs since 1965 when Medicare and Medicaid were enacted, I am certain that there will be major changes in the Affordable Care Act of 2010. I would hope and expect that that there be one health insurance system for the entire population of the United States. It does not make sense to have a completely different and separate health insurance system for the aged and the disabled from that for those under age 65. At some point, they will be merged into one system for all U.S. citizens.
I hope that the system that emerges will be a single-payer system like Medicare, in which the federal government pays the bills, but care is provided privately. The role of insurance companies [would be] relegated to management of medical bills under careful oversight by the federal government. It works for Medicare; it can work for the entire population of the United States.
One concern I have is keeping Medicare affordable. In particular, we now are seeing soaring deductibles among the health plans of the working-age population. Deductibles are often $2,000 or more for individuals, and far more for families. This is also true in the ACA's healthcare exchanges, where the Silver plan, which is the one most commonly purchased, typically has a $2,000 deductible, and Bronze plans [have a] $5,000 [deductible] for individuals. If Medicare follows this lead, it will severely harm the main point of the program: to make care affordable to the senior and disabled populations. We must be vigilant in protecting the program's benefit structure for future generations of beneficiaries.
---
Editor's Notes:
The entire Summer 2015 issue of Generations is available on AgeBlog thanks to the generous support of The Benjamin Rose Institute on Aging, Compassion & Choices and Robert Wood Johnson Foundation President's Grant Fund of the Princeton Area Community Foundation. Click here to read more.
This article is taken from the Summer 2015 issue of ASA's quarterly journal, Generations, an issue devoted to the topic "Medicare at 50" ASA members receive Generations as a membership benefit; non-members may purchase subscriptions or single copies of issues at our online store. Full digital access to current and back issues of Generations is also available to ASA members and Generations subscribers at Ingenta Connect. For details, click here.
---
References
Rice, D. P. 1964. "Health Insurance Coverage of the Aged and Their Hospital Utilization in 1962: Findings of the 1963 Survey of the Aged." Social Security Bulletin, July. Washington, DC: Social Security Administration. Retrieved March 2, 2015.