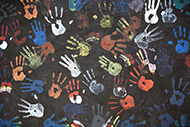 By E. Percil Stanford and Edgar E. Rivas
To comprehend the status of older women, minorities and LGBTQ people in the United States, it is essential to understand the evolution of civil rights in this country. It began with indigenous people, and in 1776, the injection of slavery foreshadowed a new ethos. The Naturalization Act of 1790 stipulated that only "free white persons" could become citizens. The Civil War triggered the abolition of slavery and the genesis of civil rights.
But the Civil War did not erase racist practices. Women, Negros and LGBTQ people were exhorted to "stay in their place." In the early 1900s, there were mild efforts to address pro-inequality practices. Those of us born in the 1930s are indelibly affected by pre-civil rights inequities. We, as were our foreparents, have been exposed to forced disenfranchisement practices that mirror acts of terrorism. Residual effects continue to resonate for diverse older adults.
Older Adults Find a Place in Civil Rights History
As a male of African descent, born in the 1930s, the civil rights journey has been frustrating yet exhilarating. Being subjected to anti-civil rights laws of the late and mid-1800s fostered an atmosphere of uncertainty and skepticism. Fear, hope and despair prevailed. Multiple inequities, consciously or not, tenaciously cling and complicate life. Civil rights laws have not proven to be a suitable proxy for equity.
Until recently, women could not hold certain jobs, receive equal pay or make critical decisions affecting their health. Sanctioned employment included being secretaries, nurses, teachers and homemakers. Older LGBTQ people generally remained closeted, were ostracized, ridiculed, lived secret lives and feared being exposed. Older minorities and LGBTQ people experienced myriad incomprehensible civil rights challenges.
Older LGBTQ people, minorities, faith groups and women have suffered ongoing inequities. Older adults' fingerprints are all over the history of the Civil Rights Movement.
Some examples: Maggie Kuhn, 1905–1995, founder of the Gray Panthers, dedicated the later part of her life to fighting for the rights of older people; Senator Claude Pepper, 1900–1989, fought for elder rights until his death at age 89; Dorothy Height, 1912–2010, president of the National Council of Negro Women, was a leader in civil and women's rights movements; and A. Philip Randolph, 1889–1979, organized the Brotherhood of Sleeping Car Porters and the first black union. As older adults, they fought tirelessly for equity and the advancement of civil and human rights. Their endeavors are inherently connected with individuals of past and future generations.
Non-Black Civil Rights History
Until the mid-1960s, minorities were subjected to injustices that civil rights laws are designed to expunge. Jim Crow Laws (1870–1965) were racial segregation laws that followed Black Codes (1800–1866) condoning lynching, which continued into the 1950s.
Though non-black civil rights histories are less luminous, others have fought relentlessly to defeat anti-civil rights protagonists, as follows:
American Indians. By 1870, most Indians were restricted to reservations. The years 1871 to 1934 were known as the Assimilation and Allotment Era. The Indian Reorganization Act of 1934 sought to establish rights for reservation Indians. The 1968 Indian Civil Rights Act limited tribal sovereignty.
Asian Americans. Asian American elders' civil rights experiences vary. Asians were banned from racial intermarriage and had limitations placed on property ownership. Until the 1940s, Asian immigrants remained ineligible for citizenship. Americans of Japanese ancestry were interned from 1942 until 1945 and 1946.
LGBTQ. The LGBTQ movement took shape in the 1950s and was saturated with unbridled harassment and discrimination. During the 1960s, the LGBTQ community crystalized more when homosexuality was not seen as deviant behavior.
Hispanics. The 1846 conflict with Mexico morphed into the Mexican–American War. Alianza Hispano-Americana, founded in 1894, protected Mexicans' rights. In 1927, the Federation of Mexican Workers Union became the first major effort to organize Mexican workers; in 1945, the California Supreme Court, in Mendez v. Westminster, ruled in favor of parents when it decreed that segregation violated children's rights in school; in 1962, Cesar Chavez and Dolores Huerta organized the National Farm Workers Association, which became the United Farm Workers.
Women. The year 1848 marked the beginning of the Women's Rights Movement; the first National Women's Rights Convention took place in 1850; in 1919, the Women's Bureau of the Department of Labor was formed and the 19th Amendment (voter rights) was established; in 1973, Roe v. Wade passed; in 2016, women are allowed to serve in any armed services job.
Other Groups. Immigrant groups such as Irish, Italian, German, Swedish, Belgian and other European nationalities have played a unique role in civil rights evolution. Their primary contributions have been in the areas of religion and worker rights, with less focus on race and ethnicity.
Emerging Civil Rights Frontiers
There are many emerging civil rights frontiers that could benefit from ASA support, as follows:
The digital divide. To fully exercise one's civil rights, access to the Internet is essential. With adequate resources, older people can effectively exercise their right to participate.
Transgender elders. Transgender older people have waited a lifetime to emerge from the shadows. They have the right to live unencumbered lives without fear of reprisal.
The act of suicide. Many older adults may consider suicide due to poor health and longevity. Some view suicide as the ultimate human and civil right, and assert that society does not have the right to interfere with a person's decision to commit suicide. In a truly free society, one has the right to take his or her life as long as the rights of others are not violated.
Our civil rights are threatened and not guaranteed. An early indication that civil rights were not secure happened in 1978 when the Supreme Court, in University of California v. Bakke, ruled that the University's use of racial quotas in its admissions process was unconstitutional.
Currently throughout federal and state governments, actions are being taken to undo gains made in voting rights, police protection, education access and employment opportunities. Questions about Attorney General Sessions' ability to be fair and impartial, based on his track record, persist. Reducing the Civil Rights Division of the Justice Department and appointing a director who has opposed civil rights laws, (specifically defending North Carolina's "Bathroom Bill") further signals a negative commitment to strengthening civil rights.
Indisputably, older adults have greatly influenced and benefitted from the evolution of civil rights. They are indispensable partners in the ongoing battle to sustain the evolution.
E. Percil Stanford, Ph.D., is president of Folding Voice in Washington, D.C., and is president of KIND Corporation in San Diego, Calif. He is the recipient of ASA's 2017 Hall of Fame Award and has played a crucial role at ASA for more than 40 years. Edgar E. Rivas is a planner and policy analyst with extensive experience in the aging and disabilities field, having served in policy and practitioner positions in Congress, local government and national associations.
Editor's Note: This article appears in the May/June, 2017, issue of Aging Today, ASA's bi-monthly newspaper covering issues in aging research, practice and policy nationwide. ASA members receive Aging Today as a member benefit; non-members may purchase subscriptions at our online store.