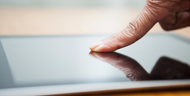 By Ginna Baik
If you check the latest technology predictions for 2014, all arrows point to mobile and wearable devices. Tablets will be bigger, less breakable and more bendable. Apps from Google Play and Apple will continue to flourish, where games like Candy Crush (2013's No. 1 downloaded app) will grow even more popular. Wearable technology like Google Glass and Sony's SmartWig will help navigate and control other devices with the blink of an eye. And of course smartphones will keep getting smarter. Worldwide smartphone sales are predicted to hit $1 billion in 2014.
How do these predictions impact older technology users? A recent Forbes article says, "retiring baby boomers represent the biggest growth market for digital medical technologies." Devices will center on social connectedness, and preventing injury and chronic disease. Technology will cater to what older adults need—designs will be less intimidating and interfaces will be easy to use and adopt for older populations. Smart phones, e-readers and tablets will continue to evolve to meet the needs of elders.
The iPad continues to be the No. 1 tablet adopted by older adults, primarily because of its accessibility for those with low vision and hearing. Also, Apple provides free training, which makes their devices even more compelling to elders. The iPhone's simple interface, consistent on all Apple products, is very popular with older adults. Samsung's Galaxy Note is also rapidly becoming a favorite with older adults because of its large screen and functions.
The biggest news for elders was that in 2013 people older than age 50 were the largest growing user population adopting Facebook, which explains the app Facebook for Seniors. This trend is expected to continue in 2014, with more elders adopting smartphones, uploading and viewing photos on their favorite social networking site. There are also expected to be more grandparents Skypeing and Facetiming this year than in years past.
The wearable technology revolution will affect older adults differently depending upon the level of care needed. The more independent elder will be more motivated to stay fit with the latest fitness technology, which measures steps and exercise. With the introduction of Fitbit and Nike Fuelband in 2013, more people, including baby boomers and independent older generations, will try out these devices as they go for daily walks. Forbes contributor Shel Israel calls this the "Bottom-Up Health" movement, which increases users' self-awareness by allowing people to track health and fitness behavior data.
For those needing more extensive tracking and security, wearable sensor technology for people with Alzheimer's is no longer limited to lanyards, but now appears in jewelry and even tattoos, so caregivers can be alerted to unusual and unsafe behaviors. The thinking behind this is that the less intrusive the sensor, the more likely the device will not be lost or broken.
Robots are predicted to enter the mainstream in 2014. Google and other leading technology companies have invested in robotics technology and are looking to test out robotics in 2014. Ekso Bionics has already taken the first step, with innovative exoskeletons that enable paralyzed or less mobile people to walk. This could allow those who need a wheelchair to imagine life without one.
Ultimately, all these new technologies are designed to help older adults to remain more independent as they age. However, there will also need to be an investment in infrastructure to enable technology use. All technologies will need access to the Internet and most likely a wireless environment. While researching the latest technologies, users or caregivers will have to weigh the cost of such infrastructure with the value it will provide to an older adult's life.
Even if the only investment is in a smartphone or tablet, this technology has been proven time and time again to help connect elders with people and tools that aid in a brain-healthy lifestyle. Isolation is a killer for older adults. If social technology helps older adults connect, the return on that investment is priceless.
---
Ginna Baik is national director of Innovation and Resident Technology at Emeritus Senior Living in Chicago, Ill.
From ASA's Network on Environments, Services and Technology for Maximizing Independence (NEST).
Help us improve AgeBlog and rate this post by clicking here!