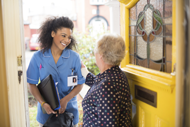 By Daniel R. Wilson
Have you ever helped an older person navigate the complexities of life—arranging transportation to a doctor's appointment, setting up meals on wheels, or even ensuring they can see a medical professional—only to find out they are alone at home with no family or friends to support them? Who will ensure they are able to bathe each day and help them with the tasks of daily living we all take for granted? If you've ever cared for an older person, you know that the questions are endless.
Direct care workers—also known as personal care assistants, paid caregivers, home health aides, and personal care aides, and nursing assistants—assist people who are sick, injured, living with physical or mental disabilities, or too frail to care for themselves. Home care aides provide a range of basic services in the home, which include help with bathing, dressing, and grooming as well as housekeeping. Some even help with tasks such as grocery shopping and preparing meals. In addition, these workers often provide safety and comfort and much-needed companionship, which can help address isolation among a vulnerable population.
More than 2 million home care workers across the U.S. provide personal assistance and health care support to older adults and people living with disabilities in home and community-based settings. Of home care workers, 89 percent are women and 58 percent are people of color. As more individuals wish to stay in their homes, as opposed to institutionalized settings such as nursing homes, the demand for quality trained workers is growing, making this the fastest-growing job in the country.
However, the effort to recruit adequate numbers of home care workers has become difficult because of the poor quality of these jobs. Area Agencies on Aging report they cannot find sufficient numbers of workers to support older adults requesting services. Private home care agencies, reimbursed by government programs such as Medicaid, cannot compete in today's labor market.
Attracting workers is a real challenge, when the average home care worker earns $13,300 annually. Because of the low pay and little to no benefits, many home care workers rely upon public health care coverage and other government benefits such as nutrition and housing assistance. With the potential repeal of the ACA, PHI is concerned that hundreds of thousands of direct care workers who have newly gained coverage through ACA will be left without care, losing access to preventative screenings and care when they become sick. Who will care for older adults who need support in their homes when the caregiver is herself sick?
Through its state and federal advocacy program, PHI works with state legislatures, as well as federal lawmakers and regulators, to create a system of home and community-based supports that values direct care jobs by increasing wages and ensuring workers receive quality standardized and specialty training, among other goals. Our goal is to create a pipeline of quality workers to care for America's older adults and people living with disabilities. During this year's Aging in America Conference, PHI will participate on several panel discussions on these topics, as well as sessions on immigration, federal legislative opportunities, LGBT aging, and more.
For 25 years, PHI has been advancing the vision of "quality care through quality jobs." During the summer of 2016, PHI helped inform an issue of ASA's journal, Generations, focused on the eldercare workforce. These developments lay the groundwork for new and exciting public education campaign led by PHI. To address the challenges facing the direct care workforce, PHI is launching a national, two-year campaign, #60CaregiverIssues, that will identify 60 ideas to improve the quality of jobs for direct care workers and thereby the quality of care for older adults. The campaign will address a broad range of issues, from the impact of changes in federal immigration and health care policies to improved training, advanced roles, innovations in telehealth and financing, and much more. New issues will be released every few weeks between now and the end of 2018. These resources are meant to heighten awareness and deepen the public conversation about the critical importance of valuing this workforce If we are to meet the caregiving needs of our nation.
To learn about this campaign and join the conversation, please visit 60CaregiverIssues.org.
Daniel R. Wilson is Director of Federal Affairs at PHI, the nation's leading authority on the direct care workforce. In 2016, Daniel co-chaired ASA's annual conference.