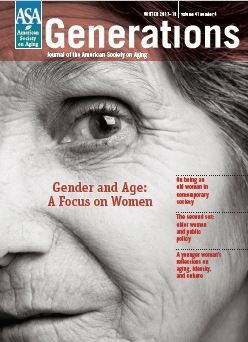 The Winter 2017­–18 issue of Generations lays out the physical, psychological, cultural, and economic realities of aging as a woman in contemporary American society.
In "On Being an Old Woman in Contemporary Society," Guest Editor Martha B. Holstein is brutally honest in her assessment of how women are aging in modern America, and it is not a an upbeat polemic. The reality is that women are poorer, spend more time caregiving, and face unrealistic pressures to "age successfully." But the resistance is building to remedy the sources of contemporary inequality, and Holstein is marginally hopeful that by showcasing voices of those often not heard, change may come, if slowly.
Robert B. Hudson and Judith G. Gonyea, in their article "The Second Sex: Older Women and Public Policy," explain how women have been a secondary or residual consideration in aging-related public policy, including Social Security, Medicaid, and long-term healthcare coverage. Efforts to repeal the Affordable Care Act would have adversely affected the chronically ill, a cohort largely made up of women. The authors' analysis of the shifting politics of aging suggests that the marginalization of older women in the policy arena seems unlikely to improve in the near future.
Feminist gerontologist Nancy Hooyman reflects upon her personal and professional milestones in scholarship, policy advocacy, and service-academic administration. Her essay parallels changes that have occurred within the women's movement since the late 1960s and how gerontology shifted from a focus on women's issues to a feminist approach that articulates the intersectionality of gender with race, immigration status, social class, age, and disability.
In "The Challenge of Intersectionality," Toni Calasanti and Sadie Giles demonstrate how intersectionality challenges scholars and practitioners to go beyond gender in their thinking on women and aging. Intersecting inequalities influence old-age experience through income, health, race, and other factors. The article also critiques the concept of "successful aging," arguing that the idea ignores the cumulative impacts of advantages and disadvantages across a woman's lifetime.
Jarmin Yeh offers her perspective on aging as a younger woman of color. In this thoughtful essay, Yeh reflects upon her identity through the story of her immigrant grandparents and her caregiving mother; upon normative assumptions of aging and how these relate to other values that inform her culture and ethnicity; and upon how women in her community respond to the dominant culture.
In "On Being an Aging Woman: An Annual Conversation," Joan Ditzion, Phyllis Mitzen, and Connie Goldman describe the eleven-year evolution of an annual intergenerational panel and discussion group they convened at the Aging in America Conference. The authors are activists who believe the feminist approach to deconstructing sexism could be a replicable model for dealing with ageism, redefining the public perception of what it means to be an aging woman, and coping with the challenges of aging.
Contributor Peggy Howard Moore relates her story of opening a yoga studio in Chicago as an older African American woman who is a size 14, which is not the typical yoga demographic. This personal essay reveals how people can evolve and change in later life, as well as return to their social activism roots.
ASA is pleased to offer this latest issue of Generations, which will be reaching ASA members and subscribers in February. Single copies can also be purchased from our website.