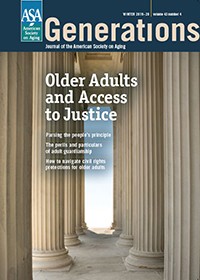 Economically disadvantaged and socially isolated elders, a particularly vulnerable population, neither have access to justice, nor do they have the ability and know-how to seek legal support and redress in the face of injustice. The Winter 2019−20  issue of Generations outlines the high-risk situations in which access to justice is unavailable, denied, questioned or otherwise thwarted—situations that professionals in the field of aging must be aware of in order to help. The issue also discusses how aging advocates might assist elders in their pursuit of justice, and highlights model programs that work to protect older adults' rights.
In "Access to Justice: The People's Principle," Guest Editor Charles P. Sabatino defines the concept of access to justice, details where the United States falls in achieving such access, especially for elders, and describes the Rule of Law Initiative, which is used as an organizing principle for the issue—from legal framework and legal knowledge, advice and representation, and how institutions operate, to fair procedures and enforceable solutions.
Erica F. Wood, in her article, "The Adult Guardianship Pipeline: Supports, Safeguards, and Off-Ramps," addresses how guardianship can mean a loss of fundamental rights, especially for elders. She showcases scenarios in which older adults may find themselves, such as medical crises, family feuds, abusive situations, evictions, etc., in which guardianship is deemed necessary, and gives professionals in the aging sector tools to ensure guardians are maximizing their charges' quality of life and elder rights, instead of allowing these to be taken away.
Kevin Prindiville and Denny Chan, in "Navigating the Patchwork of Civil Rights Protections for Older Adults," give an overview of civil rights law in the United States, how such laws do and do not necessarily protect older adults, and describe how advocates can take action when elder rights are violated. Advocates for older adults should recognize situations in which elders can assert civil rights to ensure they're not discriminated against, and this article gives them the tools to do so.
"Supported Decision-Making for Older Adults with Age-Related Cognitive Decline," by Dari Pogach, explains the relatively new concept of supported decision-making, which is gaining recognition and acceptance as an alternative to guardianship, and is emblematic of the shift from surrogate decision-making to individuals making their own decisions with supports and services of their choosing. The article also explores the idea of extending this type of decision making to older adults with age-related cognitive decline, including dementia.
Charles P. Golbert, in his article "Taking the Initiative: Office of the Cook County Public Guardian's Financial Recovery Program," dramatically describes this Chicago-based program, which provides services for 700 people who have cognitive disabilities, plus managing more than $100 million in estate assets. Via real-life events, the piece details financial abuse by multiple parties and how the program stepped in to recover more than $50 million over the past ten years.
ASA is pleased to offer this latest issue of Generations, which will reach ASA members and subscribers in late January to February 2020. Single copies of the issue can also be purchased from our website.