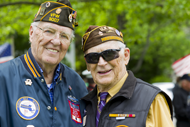 By Ralph Mills
The Los Angeles LGBT Center offers the most comprehensive suite of programs and services for LGBT older adults in the country. The Center has more than 3,500 LGBT older adult clients and offers services and programs such as medical care, housing, enrichment and educational programming, nutrition service, support groups, case management and a statewide training program for providers working with LGBT older adults.
In the summer of 2011, just months before Don't Ask Don't Tell was repealed, the Center partnered with the West Los Angeles Veterans Administration (VA) to connect older LGBT veterans to their earned benefits. What follows is the story of one veteran who exemplifies the need to respect personal choice and demonstrates challenges faced when working with some LGBT older adults—veterans in particular. Jay is a pseudonym and the specifics of his service are altered to protect his identity.
Jay came to Senior Services in early January 2016 with two friends who were looking for housing. Initially he wasn't interested in anything the Center had to offer. He was quiet and withdrawn, hiding behind a baseball cap and dark sunglasses. His friends always introduced him but his response was the same every time—he was shut down, with arms folded. The message was clear: he wanted to be left alone.
In late February, Jay came to the Center by himself and asked to register with Senior Services so he could use the Center's computer lab. Jay became curious, asking questions about different programs and filling out the client registration form on which he indicated that he was 67, a Native American and a Vietnam Veteran who had been in the Navy. Jay was referred to a case manager and the Center's monthly support group for LGBT veterans.
Jay began opening up to the staff, he had started to trust them and the Center. A letter to his case manager revealed how deep his pain was, "People may feel that I am a little off the deep end but they have not been where I have been."
He stated his initial needs were to find better housing, mental health counseling and food resources. The case manager helped Jay fill out an application for Triangle Square, the Center's affordable housing building for LGBT older adults ages 62 and older, and Jay was encouraged to participate in veteran's events in Los Angeles and with the Centers' veteran's programs.
As the relationship between Jay and Center staff deepened, he revealed more about his life, including a childhood of sexual and physical abuse. This abuse might be why he has never felt comfortable with his sexuality or sexual orientation, and he revealed that the AIDS crisis kept him in the closet. During his tour of duty he was the victim of both homophobia and racism that led to trauma and a less than honorable discharge, excluding Jay from all VA benefits.
Jay has been encouraged to apply for his VA benefits despite his less than honorable discharge. The Center and partner organization Public Counsel work together to identify and successfully challenge less than honorable discharges of LGBT veterans. Jay refused the help, stating that he is still too uncomfortable and fearful interacting with the VA. Providers must respect the will and desires of their clients as the Center has done with Jay. That unconditional support has created trust between Jay and the staff, he is speaking more frankly now about his experiences and the staff continue to support his decision, letting him know that he is in a safe space and help is just a phone call away.
Stand Down!
A Stand Down! is a one- or two-day event that helps men and women who have served in the military access essential supportive services like housing, financial and health benefits, employment and connections to local, state and federal support systems. Community-led partnerships combine local nonprofits, government officials, corporations and businesses, as well as veterans.
On July 15, 2016 the Center held its fifth Stand Down! for LGBT veterans. As participants began to enter the Village, in walked Jay, wearing sunglasses and looking nervous, but curious. After he met with VA staff he registered with the VA, was introduced to public counsel and went to a meeting to begin his application process. When he came out of the meeting Jay was transformed. He was animated and slightly giddy, no sunglasses or arms crossed. It was as if for the first time in his life he felt a sense of hope.
The following week Jay wrote a letter to our veteran's coordinator that read, "Dear Jesse, War is an ugly foe … I was hoping that we would have another Stand Down soon. I am quite pleased that there will be another one in October. Count me in … Thank you for your time and patience."
We knew from our experiences with other LGBT vets that many of them experienced the effects of war and, to a larger degree, institutionalized bigotry and hate. Jay's mistrust of the military was his biggest barrier to accessing his rights to any benefits he was due. Senior Services at the Center created a safe place for him to walk through this fear and get the support he needed to get the benefits he deserves. Jay continues to come to the Village every day.
Ralph Mills, III, M.A., Ralph Mills, III is the Deputy Director of the Los Angeles LGBT Center's Senior Services Department. He has worked in affordable housing development, HIV/AIDS prevention and drug addiction counseling. Mr. Mills also owned his own record label and has produced shows in Hollywood, California.
This article is brought to you by the Editorial Committee of ASA's LGBT Aging Issues Network (LAIN)