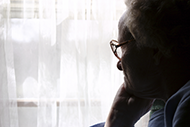 Each year, an estimated 5 million older persons are abused, neglected and exploited. Older adults throughout the United States lose an estimated $2.6 billion or more annually due to elder financial abuse and exploitation, funds that they desperately need to pay for basics such as housing, food and medical care. And it is estimated that only about one in five of those crimes are ever reported.
World Elder Abuse Awareness Day (WEAAD) was launched on June 15, 2006, by the International Network for the Prevention of Elder Abuse and the World Health Organization at the United Nations. WEAAD's purpose is to provide an opportunity for communities around the world to promote a better understanding of elder mistreatment by raising awareness of the cultural, social, economic and demographic factors that drive and influence elder abuse, neglect and exploitation. WEAAD stands in support of the United Nations International Plan of Action, which acknowledges the significance of elder abuse as a public health and human rights issue.
The American Society on Aging (ASA) supports strong advocacy to help end elder mistreatment. No one is immune to abuse, neglect and exploitation; it occurs in every demographic, and can happen to anyone.
ASA Offers Online Education to Understand and Prevent Elder Abuse
To that end, in January 2017, ASA, in collaboration with the USC Davis School of Gerontology launched "Elder Mistreatment: Understanding Abuse and Neglect," a five-week online course open to ASA's membership. The course explored how to recognize elder mistreatment; victim and abuser characteristics; risk and protective factors; the relationship of elder mistreatment to other types of family violence; clinical presentation in different settings; and what professionals can do when faced with mistreatment. This course will be offered again from August 28, 2017, to September 29, 2017 (click here for more information and to register).
Gina Maguire, with the Stockton Center on Successful Aging in Galloway, N.J., said, "This course presented an incredible amount of information which applies to my job and home life alike. I appreciate ASA's commitment to sharing pertinent timely information about the important aspects in the field of gerontology!"
Launching June 12 is the new five-week online course from ASA and USC Leonard Davis School of Gerontology on "Elder Mistreatment: Prevention of Abuse and Neglect." USC faculty members, including Zach Gassoumis, Ph.D., and Donna Benton will introduce participants to what is known about prevention within the field of elder mistreatment, and will cover options and remedies for protecting victims of elder mistreatment and strategies to prevent elder mistreatment.
For each course, participants can earn a certificate of completion from USC, and elect to receive CEUs from select accreditation providers. If you wish to enroll and are not an ASA member, you can join when registering for either of the courses and save $60 off the membership fee; use discount code USC7 (click here for more information and to register).
Web Seminar Addresses Domestic Violence, Sexual Abuse
In support of WEAAD, on June 13, ASA is also offering a special web seminar, "Domestic Violence and Sexual Abuse in Later Life: What You Can Do to Support Older Victims" featuring presenter Bonnie Brandl, founder and director of the National Clearinghouse on Abuse in Later Life. This one-hour event is on June 13 from 10:00 to 11:00 AM (Pacific). Registration is free and includes complimentary CEUs (click here for more information and to register).