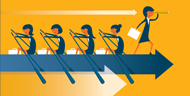 By Brooke Hollister, Molly Davies, Pamela M. Mokler and Carrie Graham
According to one long-term-care (LTC) ombudsman, an LTC resident named Walter was, "... getting his diapers rationed, and if he ran out, then [he was told] he would be left in his soiled diapers. He saved up his personal needs allowance, and, powered by his wheelchair, rode the bus to buy diapers. He had this stash of diapers that he was collecting with his own money."
Resolving cases like this is a regular part of the Long-Term Care Ombudsman Program's (LTCOP) work. While seemingly trivial, this case has serious implications for the resident, who lives on a tight budget; the facility, which is obstructing residents' rights; and the health system, which might incur costs related to de ciencies in care (from urinary tract infections, skin breakdowns, etc.).
LTCOP Mandated to Provide Oversight
The LTCOP, mandated in 1978 under the Older Americans Act, is designed to provide independent oversight over the quality of care in LTC facilities by advocating for residents' health, safety, welfare and rights. Its federally mandated activities include complaint investigation; unannounced monitoring visits to LTC facilities; community education; resident and family education; monitoring federal, state and local laws, regulations and other government policies and actions; and systems advocacy, including legislative and administrative policy advocacy.
Unfortunately, its ability to fulfill its mandates is often hampered by a lack of funding, volunteers and autonomy, according to multiple sources and a recent an article by Hollister and Estes in the Journal of Applied Gerontology (32:6, 2013). However, healthcare system reforms and resulting shifts in industry incentives are highlighting the value of the LTCOP to Managed Care Organizations (MCO).
You might also be interested in: Integrating LTSS into a Managed Health Plan: Successes & Challenges
This session is scheduled during the 2016 Aging in America Conference.
Shifting Industry Incentives
Traditionally, the majority of LTC services were paid for through Medicaid (62.2 percent), according to O'Shaughnessy of the National Health Policy Forum. For higher income Americans ineligible for Medicaid, Medicare will cover up to 100 days of skilled nursing care. The remaining cost of LTC is covered by other private insurance (11.6 percent) or out of pocket (21.9 percent), also according to O'Shaughnessy. Even in systems offering Medicaid Managed Care, LTC costs historically have been carved out, with members being shifted back to traditional Medicaid once they have entered a custodial LTC facility.
As part of the Coordinated Care Initiative in California, MCOs are now responsible for long-term services and supports (LTSS), which include long-term custodial care as a required benefit. This is a significant change from prior arrangements, which allowed MCOs to serve members in the community, but limited their liability for LTC. This change has required a steep learning curve for MCOs, and resulted in shifting relationships between two powerful and profit-driven healthcare entities: the LTC industry and MCOs.
MCOs want to ensure that members living in custodial LTC facilities need and want to be there, are receiving quality care and are being cared for in an efficient manner. This new incentive to provide oversight, improve quality and control costs requires new partnerships. And, as part of the Coordinated Care Initiative, MCOs are required to identify members who are willing and able to transfer back into the community with additional LTSS provided by the plan.
With the average cost of nursing home care around $80,000 per year, MCOs hope to rein in member costs and provide high-quality care in the community. Because of the drive toward community living, the LTC industry stands to lose considerable control over its ability to retain residents, cut administrative corners or increase revenue through re-instating Medicare rates by hospitalizing residents. While MCOs and the LTC industry explore in-facility solutions for alternative payment models and primary care services, some plans also are establishing relationships with LTCOPs, as was shown in a University of California Evaluation of Cal MediConnect.
Innovative Partnership between LTCOP and MCOs
With 3,000 custodial LTC members in Los Angeles and San Diego, Care1st Health Plan (a California-based nonprofit MCO) recognized the valuable role of the LTCOP in helping ensure the best possible quality of care for these members. In July 2015, Care1st and WISE & Healthy Aging (the LTCOP in Los Angeles) launched an innovative partnership, which includes jointly conducting unannounced visits to LTC facilities. During these visits, the LTCOP is able to introduce the plan to facility staff and residents; educate Care1st about the history of deficiencies in the facility; help the health plan review residents' charts, noting any potential fraud; and address any deficiencies or complaints. LTCOPs also are able to help MCOs identify which of their members may be willing and able to transition into the community and ensure residents' wishes are being honored.
You might also be interested in: Building Healthy Communities Through Care Coordination and Collaboration
This session is scheduled during the 2016 Aging in America Conference.
This partnership also has facilitated the LTCOP's ability to advocate for LTC residents. In managed LTSS systems, LTCOPs can base their authority on the contracts between LTC facilities and MCO plans, as well as federal and state regulations. With this additional authority, the LTCOP cited several examples of increased efficiency in resolving complaints and advocating for residents. In Walter's case, the LTCOP was given permission to share this information with Care1st and the health plan was able to resolve the incident by reminding the facility they were required to provide briefs to residents, as stipulated in their contract.
"That really streamlines that complaint process for us ... . The plan is essentially the checkbook. If we're coming in with the checkbook, we're able to get the [client] needs met ... more quickly. Then we can keep an eye on it for them . ..." says one LTC Ombudsman.
The Care1st Health Plan and WISE & Healthy Aging partnership has paved the way for additional MCO and LTCOP partnerships and could create improved LTC conditions, combat Medicare and Medicaid fraud, control costs and allow residents to live in the least restrictive environment. Further research on these new partnerships is necessary to capture positive outcomes, as well as unintended consequences. The LTCOP's commitment to residents' rights must not be affected by this new relationship, and any pressure on LTCOP resources must be matched with new payment models. One potential financing model in California could be the allocation of a portion of the Managed Care Organization Tax (still pending at time of publication) to support the LTCOP. 
---
Acknowledgment: The evaluation of this innovation and the participation of Brooke Hollister and Carrie Graham is supported by The SCAN Foundation, with additional funding provided by the National Institute on Disability, Independent Living, and Rehabilitation Research (grant90RT5026) and the Administration for Community Living.
Brooke Hollister, Ph.D., is an assistant professor at the Institute for Health & Aging at the University of California, San Francisco. Molly Davies, M.S.W., is the vice president of Elder Abuse Prevention and Ombudsman Services at WISE & Healthy Aging in Santa Monica, Calif. Pamela M. Mokler, M.S.G., is the vice president of Long-Term Services & Supports at Care1st Health Plan in Monterey Park, Calif. Carrie Graham, Ph.D., M.G.S., is the assistant director of research in Health Research for Action at the University of California, Berkeley, and an assistant professor at the Institute for Health & Aging.
Editor's Note: This article appears in the January/February 2016 issue of Aging Today, ASA's bi-monthly newspaper covering issues in aging research, practice and policy. ASA members receive Aging Today as a member benefit; non-members may purchase subscriptions at our online store or Join ASA.