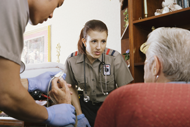 By Bonnie Brandl
Elder abuse affects millions of older adults and the people who love them and care for them. The Elder Justice Roadmap, created by the field for the field and funded by the U.S. Department of Justice and the U.S. Department of Health and Human Services, defines elder abuse as the "physical, sexual, or psychological abuse, neglect, abandonment, and financial exploitation of an older person by another person or entity, that occurs in any setting, either in a relationship where there is an expectation of trust and/or when an older person is targeted based on age or disability." One in ten community-residing older adults reported experiencing elder abuse in the past year. More than 5 million older adults may be victimized each year.
Even as reported cases rise, too few victims are receiving assistance. For every case of elder abuse that comes to light, another 23 remain unreported.
In addition to the incalculable human suffering caused by violence and abuse, in the United States, the direct medical costs associated with violent injuries to older adults stemming from interpersonal abuse are estimated to add more than $5.3 billion to the nation's annual health expenditures; this does not, however, calculate the human and fiscal consequences of neglect.
The cumulative toll of elder abuse has not yet been quantified, but the cost has been estimated at many billions of dollars a year. Victims of elder abuse are four times more likely to be admitted to a nursing home and three times more likely to be admitted to a hospital than non-abused older adults. When older adults are harmed, it can be more difficult for them to recover from physical injuries and financial devastation.
A substantial portion of elder abuse is violence against older women. Because survey data rely on survivors to accurately self-report their experiences, older women are likely underreporting intimate partner violence, because generational perceptions and values may affect how older women understand interpersonal abuse. Studies in the United States and globally consistently show that a significant portion of elder abuse cases (including both physical and non-physical violence) involve female victims with spouses as perpetrators.
The National Elder Mistreatment Study (2009) discovered the majority of physical violence against individuals 60 years and older was perpetrated by a partner. Emotional and psychological forms of intimate partner violence are as prevalent among older women as they are among younger women—but health-related trauma associated with non-physical abuse is often more severe for older women.
The following are some case examples illustrating physical abuse, emotional abuse, and financial exploitation:
Mildred, age 82, has been married for 60 years. Throughout their marriage, her husband has hit her, humiliated her sexually, and called her "fat" and "stupid." She married him "for better and for worse." Mildred will not consider leaving him.
Rosario, age 58, lives with her adult son in the home she owns. She works full-time and volunteers at the hospital. Her son has threatened to kill her and takes money from her. She is afraid of him.
Dave, age 84, is a veteran who has some hearing loss and mobility challenges. His daughter and her husband threatened to put him in a nursing home and forced him to sign over his home. They have evicted him; soon he will be homeless.
We professionals and volunteers in the aging services network have a unique opportunity to respond to the needs of older victims of abuse. We build relationships with older adults. We have opportunities to notice unusual bruising or changes in the behavior of the older adult. We may hear about a new friend or a family member who has recently come into the life of an older adult. We may know that the older individual's husband is not nice to her, or that an older man's daughter has issues with gambling or other addictions. We can take action, using the following strategies:
Gently ask questions about how the older adult is doing;
Provide support and information about crisis lines and services in the community;
Report abuse, neglect, or exploitation to adult protective services or law enforcement if there is concern about the safety of an older adult;
Participate on collaboration teams in the community that are focused on abuse in later life; and
Raise awareness about abuse, neglect, and exploitation through presentations, written materials, and activities on June 15, a day set aside to honor World Elder Abuse Awareness.
As professionals who come in contact with older adults, we all have a responsibility to learn more about abuse, to ask questions, and to provide support to victims. We can make a difference!
Bonnie Brandl, MSW, is the director of the National Clearinghouse on Abuse in Later Life, where she acts as a liaison for national elder abuse, domestic violence, sexual assault, and aging networks and oversees and provides national technical assistance, training, program development, and support regarding abuse in later life. She can be reached at bbrandl@ncall.us.