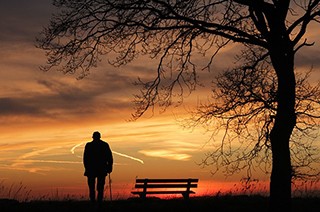 By Ashwin Kotwal and Carla Perissinotto
The healthcare community and general public increasingly acknowledge that "successful ag­ing" involves not only a focus on physical and mental health, but also on social well-be­ing and connectedness. In particular, the concepts of social isolation and loneliness have emerged as critical to the health and quality of life of older adults, and to public health overall. While the terms often are used interchangeably, they have different meanings; accordingly, how we address each may differ.
Social isolation relates to a quantifiable deficit in the number of relationships or volume of con­tact with family, friends and community. Risks for being socially isolated include living alone, be­ing unmarried or unpartnered, having no children or having minimal contact with others.
Loneliness, in contrast, is a subjective and distressing feeling of isolation, lack of companion­ship or a perceived discre­pancy between ideal and existing social connections.
Loneliness and so­cial isolation can co-occur, but recent research suggests they often occur separately.
A 2017 national study found that nearly two-thirds of individuals reporting significant loneli­ness were married. On the other hand, people can live relatively solitary lives with no complaints of loneliness. Some research suggests that rather than looking at loneliness and isolation indepen­dently, we should focus on composite measures of social connection such as structural factors (eg., network size and marital status), functional factors (eg., perceived support) and relationship qual­ity.
Health Effects of Isolation and Loneliness
Despite variations in understanding and reporting of loneliness and isolation, there are significant data demonstrating persistent negative health consequences of loneliness and, conversely, protec­tive effects of maintaining social connection. Prevalence rates of loneliness in the United States are reported to be as high as 43 percent in community-dwelling adults older than age 60, and are a significant risk factor for premature mortality, with health effects comparable to smoking.
In addition to premature mortality, various studies examining loneliness and isolation have demonstrated an association with worsened diabetes, increased risk of cardiovascular mortality, dementia prevalence and loss of independence. Importantly, loneliness and isolation also place older adults at risk for elder abuse. In essence, as research of loneliness and social isolation evolves, there is increasing evidence linking social connection with a multitude of negative health effects.
Loneliness and social isolation can occur throughout the life course, yet, in our clinical practice, we often observe how older adults are uniquely vulnerable to developing and experiencing the negative health consequences of these social situations. For healthy middle-age or older adults, loneliness can be an adaptive response that motivates individuals to reconnect with relationships or the community, with studies showing this feeling can be transient and improve over time, with­out intervention.
However, for older adults experiencing late-life disability, cognitive impairment and physical symptoms such as pain, they may be unable to recover lost connections and cope with loneliness. Sudden changes in physical function after a fall, for example, can lead to isolation in the home. Sensory changes such as visual impairment from macular degeneration or untreated cataracts, or undetected hearing loss may make getting out of the home difficult or reduce motivation to social­ize or participate in community activities.
Moreover, older adults can experience fundamental changes in social roles due to a transition to widowhood or the loss of important family or friends, who are difficult to replace.
Retiring from a long-standing job can disrupt decades of routine, relationships with the community and feelings of self-worth and self-efficacy. Simply trying to "increase social contact" to address loneliness and social isolation among older adults, while compassionate, may lack the nuance required to manage complex and individual situations among older adults.
Older adults have unique risks of developing isolation and loneliness. At the same time, there is increasing proof and concern that younger generations raised with a reliance on social media and technology are experiencing higher levels of loneliness and, potentially, isolation. This is thought to be related to how social media and technology are used, the quality of online relationships and interactions, and if these are replacing in-person relationships. There is reason for concern, yet we need to better understand the positive and negative effects of our technologically connected world and how it relates to our medical care and health.
Social Interventions Key in Later Life
Healthcare providers often focus intensely on medcal care to manage complex medical conditions, medications and de­­­­­­­cisions to undergo testing and procedures. Yet social factors like loneliness may be more important to patients. A national survey on end-of-life preferences, for example, found that up to 85 percent of older adults and caregivers valued factors at the end of life such as sharing time with close friends, the presence of family, not dying alone, being able to help others and not being a burden to the family.
While the benefits of traditional medical care become increasingly limited (and sometimes harmful) as elders develop progressive physical and cognitive disability, social interventions fo­cused on enhancing connectedness represent an area where we can positively impact well-being. With increased attention from the medical community and efforts to work across disciplines, we are encouraged that creative and systematic solutions can be created to address the development and health consequences of loneliness and social isolation among elders.
Solutions can include creating communities that value intergenerational living, not merely building studios for older adults; "structured" volunteering, which benefits both volunteers and people receiving the service; and, organizations, such as the Foundation for Art and Healing, are looking at how the arts can connect people. Also, using technology and social media can be meaningful methods of connection, albeit with careful examination of how this technology is employed and the amount of time spent on social media. For older adults living in rural areas, or who are homebound, connecting with family and friends via technology platforms can be a pos­itive addition.
We have reasons to be concerned about the effects our social connections have upon our lives and health across the life span. We are only starting to understand and accept the wide depth of their health effects. The next steps include thinking about unmeasured risk factors for social isola­tion and loneliness and unintended consequences of proposed solutions.
Hopefully, with increased understanding of these complex issues, we can focus on prevention and improve our communities' health. This will require meaningful and open discussions with re­searchers, healthcare providers and society at large about loneliness and isolation, as well as the realization that meaningful social interaction may still involve the seemingly archaic idea of con­necting with others in person. n
Ashwin Kotwal, M.D., is a clinical fellow in the University of California, San Francisco's (UCSF) Geriatrics Department of Medicine. Carla Perissinotto, M.D., M.H.S., is an associate professor of Medicine in the same department.