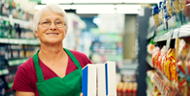 Older women are not just consumers, household-buying decision makers and caregivers. According to the Sloan Center on Aging and Work at Boston College, they are also key drivers of the workforce, especially in the Great Recession.
As the Sloan Center's Oct. 2013 report, Older Women in the Workforce, points out, "The overall gain in labor-force participation among workers age 55 and older was primarily driven by the increases in female labor-force participation rates, as the male labor-force participation rates of that age group were lower in 2010 (46.4 percent) than they were in 1975 (49.4 percent)."
"The talent that older women can and do bring to the workplace may be one of the best kept secrets at American workplaces," says Marcie Pitt-Catsouphes, director of the Sloan Center and a keynote speaker at ASA's upcoming Aging in America summit, "Tapping the Self-Reliant Power of Older Women."
The summit is on Weds., March 12, from 8 a.m. to 12:30 p.m. at the Manchester Grand Hyatt hotel in San Diego during ASA's Aging in America Conference. Sponsored by CVS Caremark, and presented by the ASA Business Forum on Aging (BFA), the summit will convene some of the nation's top thought leaders for a half-day program tailored to business leaders, long-term care services and support professionals, area agencies on aging and state aging organizations, policy makers, advocates and academics.
"It's time to celebrate older women's accomplishments and expand opportunities for them to continue to make productive contributions," says Pitt-Catsouphes, who will also talk about to what extent older women have access to good quality jobs and how employers can make the most of women's intention to work as long as possible.
According to a 2009 Pew survey of women ages 50 to 61, 63 percent think they'll have to keep working beyond retirement, because of the recession, and 72 percent fear they will have to delay retirement, compared to 54 percent of men in the same age bracket. 
For many of these working women, health and economic security are two of their top priorities. How will they manage these, considering economic challenges and additional life expectancy? What does this mean for aging services professionals, and why should they care? Barbara Hoenig, BFA chair and the brains behind the Women's Summit, offers some perspective: "We need to get a holistic portrayal of the active older woman—considering her future income needs and the options for funding her later years."
Women make 58 percent of the online retail purchases, and make 80 percent of healthcare decisions. Summit attendees will learn about current business marketing and pricing trends that reflect an understanding of this older woman as a customer and consumer, from keynoters like Maddy Dychtwald, the co-founder of Age Wave, and Marci Alboher, author of The Encore Career Handbook: How to Make a Living and a Difference in the Second Half of Life.
Participants also will hear how impending demographics may affect healthcare habits of older women from Yanira Cruz, president and CEO of the National Hispanic Council on Aging. Gretchen Alkema, vice president of policy and communications for The SCAN Foundation will address challenges of maintaining a healthy lifestyle and managing chronic health conditions.
Attend this summit to find out what you need to know about this key driver of the American economy. Space is limited, so sign up now.
Thankfully many mature women are invaluable in the business world.
Experience allows them the confidence to discard pressures to conform to unnecessary and unhelpful stereotypes that interfere with rapor building and communication.
I welcome the heart and wisdom that has proven totally appropriate in my field.
Many women are looking for opportunities to start new ventures and to become responsible business owners and to establish their own financial independence and security.
I am open to hearing from anyone keen to consider new possibilities and who is prepared to apply themselves.
Contact me for more info.
Ian G Downie
www.3jv2.com
ian@downie.com