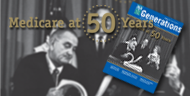 At its 50-year mark, Medicare now covers 55 million people, provides insurance to one in six Americans, and accounts for 14 percent of the federal budget and 20 percent of national healthcare expenditures. This snapshot of Medicare-by-the-numbers reveals the program as firmly placed at the nexus of political will, social responsibility, and future sustainability. In our modern political climate, can we muster the will to retain this life-saving program at its current strength? Will impending demographics prove too unwieldy—or be manageable with substantial change?
All options for this historic and complex program are on the table, which is why this issue of Generations benefited from the considerable expertise of two Guest Editors, an analyst and an advocate, to guide its editorial direction.
"The Medicare program affects everyone, directly or indirectly," says Guest Editor John Rother, president and CEO of the National Coalition on Health Care (NCHC). "It's the single most important social program, along with Social Security, that sustains dignity in later years. It faces major challenges going forward . . . but it's so central to our society that we can't imagine life without it."
"This special issue [of Generations] should be of great interest to readers who want to understand the role that Medicare plays in the lives of seniors and younger adults with disabilities, the challenges that remain, and the opportunities to build upon Medicare to improve the experience of aging moving forward," says Guest Editor Tricia Neuman, senior vice president of the Kaiser Family Foundation, and director of the Foundation's Program on Medicare Policy and its Project on Medicare's Future.
Our two Guest Editors met on the Senate Special Committee on Aging under the chairmanship of Senator John Heinz. Both see Medicare as a policy challenge and a way to ensure health and economic security for older adults. And they remain hopeful about its future.
Rother leads the NCHC's work to make healthcare affordable, a challenge he calls the biggest that faces any aging society. "Out-of-control healthcare expenses threaten our ability to address other important societal concerns, including long-term care and social supports for elders. Unless we can make healthcare services a higher value and more effective, we simply won't be able to afford other priorities that support a higher quality of life."
One focus at NCHC is to make drugs more affordable. "Drug costs are driving overall health spending higher, and we need to enforce a social responsibility ethic in the industry so that patients can benefit from the new therapies. The majority of biologic drugs coming through the FDA pipeline will be priced above $100,000 per year—that's simply unsustainable."
Prior to joining the Coalition in 2011, Rother was executive vice president for Policy, Strategy, and International Affairs at AARP, and before that he served as staff director and chief counsel for the U.S. Senate Special Committee on Aging. During his twenty-seven years as policy director at AARP, he led their work to get a prescription drug benefit in Medicare and later to pass the Affordable Care Act. More recently, Rother was heavily involved in getting Congress to amend the way doctors are paid under Medicare, to reward value over volume.
Policy expert Tricia Neuman says her work at the Kaiser Family Foundation "speaks directly to some of the most difficult issues and challenges associated with an aging population. . . . What I especially love about our analytic work is that we focus on people—especially those who are most disadvantaged."
Neuman concentrates on dispensing the right (and non-partisan) information on Medicare, and says she works with a group of professionals who have "fun" disentangling complex Medicare proposals to help the media, advocacy organizations, and policy makers understand what various proposals mean for Medicare beneficiaries. Her policy expertise often is called upon by the media, and she has educated audiences via NPR, NBC Nightly News, CBS Evening News, the Today Show, and the PBS NewsHour.
Neuman got her start on Capitol Hill interning for Congressman Claude Pepper, where she quickly learned that having the right facts on hand was key to any policy discussion. She then moved to the Senate Special Committee on Aging, and spent six years on the staff of the Ways and Means Subcommittee on Health in the U.S. House of Representatives.
"It's hard to imagine a future without Medicare," says Neuman. "Policy makers face real challenges moving forward—finding ways to finance care for an aging population, building on Medicare to leverage better quality care for its beneficiaries, and balancing the need to keep Medicare affordable for the nation and for seniors."
Rother agrees. "To survive and thrive, Medicare must also become more efficient and encourage higher value care services. This is a never-ending job that will involve all of us in the aging field."
Neuman sees recent Medicare spending history as a bright spot presaging a successful future. "Medicare has been experiencing an unprecedented slowdown in per capita and total spending, which has helped to improve its financial outlook. The program is leading the way in testing new payment and delivery system reforms, hoping to find successful strategies to improve the management of care, and lower costs.
"That is not to say all is rosy, but it does create some breathing room to build a stronger program for the future," says Neuman.
Inside this issue of Generations
Medicare at 50: Lessons and Challenges
By Tricia Neuman and John Rother
read on AgeBlog
Personal Reflections on Medicare
The Labor Pains of Giving Birth to Medicare
By Joseph A. Califano, Jr.
read on AgeBlog
Battling for the Right Health Policy, Then and Now
By Philip R. Lee
read on AgeBlog
When Research Produces Results: A Conversation with Dr. Dorothy Rice
Interview by Tricia Neuman
read on AgeBlog
Profile of Beneficiaries: Current and Future Challenges
Medicare Coverage, Affordability, and Access
By Juliette Cubanski and Cristina Boccuti
read on AgeBlog
The Medicare and Medicaid Partnership at Age 50
By Diane Rowland
read on AgeBlog
Women and Medicare: An Unfinished Agenda
By Alina Salganicoff
read on AgeBlog
Medicare and Individuals Younger than Age 65
By Eva LaManna, Jeffrey S. Crowley, and Henry Claypool
read on AgeBlog
Medicare and Minority Communities: Reflections on 50 Years of Progress and a Vision for the Future
By Cara V. James
read on AgeBlog
What Works and What Doesn't: Opportunities to Strengthen Medicare for the Future
A Roundtable Discussion with Joe Baker, Judith Stein, and Kevin Prindiville
read on AgeBlog
How Medicare Provides Care for an Aging Population
CMS: Innovating to Achieve Better Care, Smarter Spending, and Healthier People
By Matthew Press, Rahul Rajkumar, and Patrick Conway
read on AgeBlog
The Emerging Role of Private Plans in Medicare
By Gretchen Jacobson
read on AgeBlog
Medicare and Quality: A Personal Reflection
By Christine Cassel
read on AgeBlog
Ensuring Care for Aging Baby Boomers: Solutions at Hand
By Elizabeth J. Bragg and Jennie Chin Hansen
read on AgeBlog
How the Principles of Geriatric Care Can Be Used to Improve Care for Medicare Patients
By Bruce Leff, Helen Kao, and Christine Ritchie
read on AgeBlog
Advanced Illness Care: We Can Do Better
By Bill Novelli and Raca Banerjee
read on AgeBlog
The Current and Potential Role of Palliative Care for the Medicare Population
By Amy S. Kelley and Diane E. Meier
read on AgeBlog
Past as Prologue: Political History, Interest Groups' Role, Policy Reforms, and Public Opinion
The Political History of Medicare
By Jonathan Oberlander
read on AgeBlog
Out of Balance: Medicare, Interest Groups, and American Politics
By Jacob S. Hacker
read on AgeBlog
Medicare as Reflected in Public Opinion
By Mollyann Brodie, Elizabeth C. Hamel, and Mira Norton
read on AgeBlog
Medicare: The View from Inside the Administration
A Roundtable Discussion with Bruce Vladeck and Gail Wilensky
read on AgeBlog
Key Challenges Facing Medicare's Future
The Seven Most Important Demographic Events that Will Influence Medicare in the Future
By S. Jay Olshansky
read on AgeBlog
Can Medicare Be a Vehicle for Improving Coverage for Long-Term-Care Services and Supports?
A Roundtable Discussion with Sheila Burke and Judy Feder
read on AgeBlog
Improving Medicare Financing: Are We Up to the Challenge?
By Marilyn Moon
read on AgeBlog
Should Medicare Rely More on Market Competition? What the Healthcare Market Will Bear
A Roundtable Discussion with Joseph Antos and Thomas Rice
read on AgeBlog
A Prescription for the Next Fifty Years of Medicare
By Linda P. Fried
read on AgeBlog
---
Editor's Notes:
The entire Summer 2015 issue of Generations is available on AgeBlog thanks to the generous support of The Benjamin Rose Institute on Aging, Compassion & Choices and Robert Wood Johnson Foundation President's Grant Fund of the Princeton Area Community Foundation. 
This article is taken from the Summer 2015 issue of ASA's quarterly journal, Generations, an issue devoted to the topic "Medicare at 50" ASA members receive Generations as a membership benefit; non-members may purchase subscriptions or single copies of issues at our online store. Full digital access to current and back issues of Generations is also available to ASA members and Generations subscribers at Ingenta Connect. For details, click here.
Medicaid stories are both, favorable and sometimes not. For my family, Medicaid served my dad living with Alzheimer's very well. Read our story on AARP. As for my nephew and his wife's family, it's a nightmare. It's my belief that it all depends on how well one plans for long-term care. That's the key.