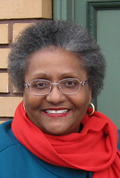 Allegheny County Area Agency on Aging
Pittsburgh, PA
What drew you to the field of aging or gerontology?
Having found myself among the tens of thousands of southwestern Pennsylvanians suffering a job loss following the downturn of the steel industry in the early 80's, my employment search uncovered opportunities within local government in the field of Human Services. Acknowledgement of the simple fact that if we keep on living, we are going to get old, led me to accept a position with the Allegheny County Department of Human Services, Area Agency on Aging (AAA); one of the largest of the 52 AAAs serving older adults across the state of Pennsylvania.
What is your specialty or area of interest?
Transitioning from the private to the public sector with a bachelor's degree in Sociology and a master's degree in Business Administration, I was attracted to the area of Program Planning and Evaluation. Advancing opportunities in administration ignited interests in expanding funding sources through the pursuit of grant opportunities and supporting the establishment of public/private partnerships to expand and enhance existing services offerings to AAA participants. An immediate area of interest lies in Health Care Reform and full implementation of the Affordable Care Act; specifically those initiatives that seek to reign in escalating health care costs by efficient integration of Medicare and Medicaid services to the dually eligible population of seniors and the reduction of preventable hospital readmissions through more deliberate care transition practices at all stages of care.
How do ASA's resources and education help you with your work?
From my initial foray into the field of Aging Services in 1986, ASA has been an ever present resource and place to turn for Best Practices, networking with peers and leaders in the field, and lifelong learning via conferences and a plethora of publications and web-based seminars. For those reasons and more, the first action I took following my decision to retire from the AAA in January 2012 was to submit my personal application for ASA membership. I am confident that my continued affiliation with the ASA will support my personal endeavor to remain connected and an informed advocate and volunteer in the field of Aging services.