Joshua Berrett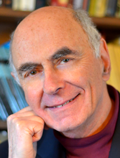 Phd, Principal Officer
Ageless Mind, Inc.
Mount Kisko, NY
What drew you to the field of aging or gerontology?
Transformative for me was the experience of being a caregiver to my mother-in-law, and subsequently to both my sister-in-law and much older brother—for whom I also held the durable power of attorney. It all made me acutely aware of the need to be as proactive and engaged as possible. Since 2012, I have been in demand as a facilitator at Lifetime Learners Institute at Norwalk Community College in Connecticut.
What is your specialty or area of interest?
Building on my expertise in musicology, and drawing upon the latest neurological research, my area of greatest interest is in music as brain food. Over the past ten years my wife and I have offered an ASA Metlife Webinar, workshops, seminars, and a blog. As of September 2015, we have been engaged in our 501(c)(3), Ageless Mind Project, Inc. Our mission is to educate primarily the 50-plus population in a holistic, research-based approach to optimal brain health through both traditional workshops etc., but also through immersive virtual environments.
How do ASA's resources and education help you with your work?
Serving on LEARN Council, learning about brain fitness, doing peer reviews of proposals, writing book review blogs.