The Foru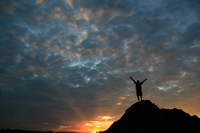 m on Religion, Spirituality and Aging (FORSA) constitutes a national, multidisciplinary and nondenominational community of professionals committed to examining and fostering the spiritual dimension of human existence as a central element in the aging process and to fostering an appreciation for the importance of incorporating an awareness of this dimension into all the disciplines that make up the fascinating world of gerontology.
Some members come at the topic from traditional faith perspectives and are active in various churches, synagogues and mosques, while others approach the issues from the perspective of "mindful" or "conscious" aging. Whatever your particular perspective, you are welcome to become part of the dialogue of a most worthwhile and welcoming professional society.
FORSA is a constituent group of the American Society on Aging (ASA), the largest professional membership association in the field of aging. ASA's more then 6,000 members comprise a national, multidisciplinary community of those who work with older adults. Members of FORSA have access to a wealth of resources in the field of aging through ASA's publications and programs.
FORSA members include anyone interested in the spiritual, religious and philosophical aspects of aging, such as:
Clergy and theologians
Pastoral counselors
Chaplains and caregivers
Social workers and nurses
Administrators
Layworkers and staff of religious organizations and agencies
Educators and seminarians
Lay leadership working in congregational community settings
Aging network agencies
Conscious aging proponents
Anyone interested in ethics
FORSA contributes to ASA's programs, education events and activities through the following avenues: