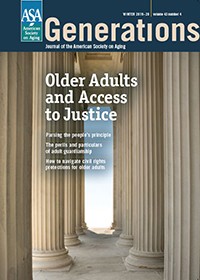 Browse select articles from the Winter 2020 Generations
Practitioners and researchers in the field of aging have long relied on Generations to provide them with in-depth research, practical applications, and valuable insight into the lives of older adults and those who work with them. Each issue features several articles on a single topic, guest-edited by one or more recognized experts in the subject area, and includes contributions from a range of practitioners, researchers, policymakers and elders. Authoritative and comprehensive, Generations offers a wide range of perspectives on relevant and timely topics in aging. This is what makes Generations an ideal resource for professionals, academics and anyone interested in aging. 
Subscription and online access options.
Subscribe or Read Generations Online
Subscriptions: As a member of ASA you'll enjoy a subscription to Generations as a membership benefit. If you are not yet a member, or if you would like additional copies to share with colleagues, you can subscribe to Generations (print or online editions).

Buy Single Issues: You can also browse and purchase print copies of individual Generations issues—a convenient option for individual use or for distributing issues to colleagues, staff or students. ASA members enjoy a 15% discount and there are additional discounts for orders of as few as five or more copies.
 
It's easy to view Generations articles and issues online. Simply use one of the following methods:

Get Articles:
Visit IngentaConnect to search, read or print articles from current and previous issues (2003 and later) of Generations. ASA members can access the full online archive at no cost—another great membership benefit! (Members: If you aren't logged in here yet, use the "Log In" at the top of this page to log in before you visit Ingenta Connect so that you'll be recognized as an ASA member when you visit). Nonmembers can also purchase individual articles.
On the Blog: You can also find selected articles from Generations on ASA's blog. Click here to view the latest postings.
---
Funded Issues of Generations

LTC Partners, LLC provided support for the Winter 2016–2017 issue addressing major public policy issues concerning older adults.

The Gary and Mary West Foundation provided support for the Fall 2016 issue on the topic of "Aging and the Importance of Oral Health."
These issues of Generations have been funded, in part, by the Archstone Foundation:
Advertise in Generations or sponsor an issue.
Please note: Generations does not publish unsolicited articles. Each issue's authors are specifically invited to contribute. Unsolicited article manuscripts will be returned without review. ASA members who would like to share their expertise are invited to review our author guidelines for AgeBlog.