Tuesday, January 8, 2013
11:00 AM Pacific / 12:00 PM Mountain / 1:00 PM Central / 2:00 PM Eastern
Part Three of "Moving Forward with Alzheimer's & Dementia," a three part series sponsored by Senior Helpers and Alzheimer's Foundation of America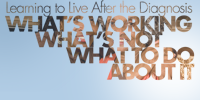 This webinar will encourage both the person with dementia and their care partner to learn more about themselves and each other so that the day goes better. Teepa will discuss personality traits, environmental and activity preferences as well as stress indicators and reducers.  Teepa will also discuss planning and organizational needs and the importance of preferred routines and habit patterns for each person.  Emphasis will be put on the importance of helping the care partner and the person with dementia reach out to others so that each has options and support beyond the other person.
Participants in this web seminar will:
Discuss the importance of knowing yourself and your care partner in effectively planning and creating days that work well
Identify and compare strategies for stress identification and stress reduction
Develop daily patterns and routines that are beneficial and meet both partners' needs on a regular basis
Earn one hour of  *free* continuing education credit by attending the event and completing a CEU survey
Presenter:

Teepa Snow is an occupational therapist working as a dementia care and dementia education specialist. She has over 31 years of clinical experience in the field of geriatrics and dementia care. Currently, she has an independent practice as well as clinical appointments with Duke University's School of Nursing and UNC-Chapel Hill's School of Medicine. She provides interactive and creative educational and training sessions to organizations and providers throughout the US & Canada. She has been actively involved in teaching and clinical research projects throughout her practice career.