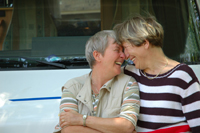 The LGBT Aging Issues Network (LAIN) works to raise awareness about the concerns of lesbian, gay, bisexual and transgender (LGBT) elders and about the unique barriers they encounter in gaining access to housing, healthcare, long-term care and other needed services. LAIN seeks to foster professional development, multidisciplinary research and wide-ranging dialogue on LGBT issues in the field of aging through publications, conferences, and cosponsored events. LAIN welcomes the participation of all concerned individuals regardless of age, sexual orientation or gender identity.
LAIN contributes to ASA's programs, education events and activities through the following avenues:
LGBT Aging Resources Clearinghouse
The LGBT Aging Resources Clearinghouse of the American Society on Aging opens the door to knowledge about lesbian, gay, bisexual, and transgender people ages 50-plus. 
 
National Resource Center on LGBT Aging

The National Resource Center on LGBT Aging (NRC) is the country's first and only technical assistance resource center aimed at improving the quality of services and supports offered to lesbian, gay, bisexual and transgender (LGBT) older adults. ASA and LAIN are proud to be a National Partner Organization with Services and Advocacy for GLBT Elders (SAGE) for development and support of the NRC.