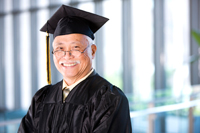 Members of the Lifetime Education and Renewal Network (LEARN) are involved in all aspects of education for older adults. They represent the growing variety of settings and programs offering opportunities for lifetime learners:
Lifelong learning programs in college and university settings
Health promotion and hospital wellness programs
Art, music, dance, writing and other creativity programs
Humanities, life skills and leadership programs
Programs in senior centers and community based organizations
Adult education in school systems and recreation departments
LEARN's goal is to increase your knowledge of the nature and promise of lifelong learning so you can enhance the quality as well as the quantity of programs for older adults. LEARN provides updates on program models, how adults learn, public policy issues, new research, funding sources and training opportunities. The network also helps you stay connected with peers and promotes the exchange of ideas and information in this specialized field.
LEARN members include:
Deans and directors of continuing education programs
Administrators, teachers, coordinators and program specialists from educational, corporate and community programs or other lifelong learning programs for older adults
Faculty working with theory-to-practice problem-solving in the classroom
LEARN contributes to ASA's programs, education events and activities through the following avenues:
LEARN Resources
The following are resources recommended by members of the LEARN Council:
Lifelong Learning Institutes Network Hosting the largest network of Lifelong Learning Institutes (LLIs) across the U.S., we help adults pursue their love of learning close to home by facilitating the development of new curriculum and collaboration among our network of hundreds of LLIs.
RoadScholar

 The leader in educational travel for adults since 1975, Road Scholar offers 5,500 learning adventures, serving more than 100,000 participants annually. Programs combine travel and education to provide experiential learning opportunities featuring an extraordinary range of topics, formats and locations, in every state in the U.S., 150 countries and aboard ships on rivers and oceans worldwide.

National Resource Center of Osher Institutes

 

The 120 Osher Lifelong Learning Institutes (OLLIs) offer courses and activities in 379 cities and towns throughout all 50 U.S. states and the District of Columbia. Each Institute is unique and operates as an independent initiative of its host institution, with offerings tailored to meet the needs and interests of its community. All Osher Institutes offer a wide variety of intellectually stimulating, university-level, non-credit courses and learning opportunities designed for people "50 and better." Link to map here.
The OASIS Institute

A non-profit educational organization, active in 40 cities and reaching more than 50,000 individuals each year, Oasis' vision is that of older adults pursuing vibrant, healthy, productive and meaningful lives. Its mission is to promote healthy aging through: lifelong learning, active lifestyles and volunteer engagement. The St Louis-based Institute develops and implements evidence- and research-based programs and provides training and support for nine Oasis centers and partners in additional cities. Its network of over 700 Partners includes health providers, corporations, senior centers, libraries, universities and colleges, senior living organizations and government agencies.

Shepherd Centers of America

A pioneer in the field, the nationwide network of Shepherd's Centers offer endless possibilities to live life with meaning and purpose through educational programs, volunteer caregiving services and social programs that build community connections for all. Millions of lives have changed for the better as older adults are aging with dignity in the community.

Cyber-Seniors Cyber-Seniors' goal is to bridge the digital divide and connect generations through technology.
Recent Articles: