If one of your concerns is the mental health of older adults, where do you turn when you want to:
Know more about the effectiveness of programs and services?
Develop new clinical or administrative skills?
Contribute to efforts to promote the mental well-being of elders?
The Me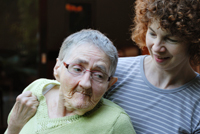 ntal Health and Aging Network (MHAN) can help you with your professional development. Members of MHAN are dedicated to improving supportive interventions for older adults with mental health problems and for their caregivers. To achieve this goal, MHAN aims to:
Create a cadre of professionals with expertise in geriatric mental health issues.
Assure that service professionals are "dementia capable."
Improve systems of care for older adults with mental health problems or dementia.
Provide a voice for these underserved or inappropriately served populations.
Advocate services and programs that enhance positive mental health for older adults.
MHAN members share information about the mental health of older adults, and those whose work touches issues in:
Elder abuse
Substance abuse
Case management
Cross-cultural counseling
Clinical counseling
Therapies for mental wellness
Psychopharmacology
Alzheimer's and related disorders
Mental health advocacy and policy development
Applied research
MHAN contributes to ASA's programs, education events and activities through the following avenues: