Recognizing Innovations in Mental Fitness Programming for Older Adults
The MindAlert Award is awarded to a mental fitness program serving the general population of older adults developed by a nonprofit organization. Competitive applications will clearly describe innovative features of the program; demonstrate the program's basis in research; demonstrate the program's impact on cognitive abilities of older adults and potential for the program to be replicated by other organizations; and include how the program or product addresses cultural, racial, ethnic or geographically diverse older adult audiences.
The winner will be featured in the Aging in America Conference program book, in Aging Today and Age Blog, and on this page.
The nomination site for the 2015 ASA Awards
will open on Wednesday, July 1, 2014.
ASA Congratulates the Winner of 2014 ASA MindAlert Award
Mind Matters, Northfield, IL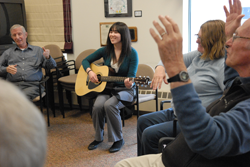 The 2014 MindAlert Award winner is Mind Matters, a program of North Shore Senior Center's (NSSC) House of Welcome Adult Day Services, Northfield, Ill.
North Shore Senior Center's Mind Matters is a therapeutic, evidence-based group program for persons with early memory loss, currently supported by the Martin and Mary L. Boyer Foundation. With more awareness, earlier diagnosis, and research indicating that social interaction, physical exercise, cognitive activities and creative arts therapies can benefit those with early memory loss, Mind Matters was a natural addition to House of Welcome Adult Day Services' programming.
Mind Matters participants engage in a variety of therapeutic activities with the goals of supporting the social, educational and emotional needs of persons with early memory loss; providing the opportunity to socialize, learn about memory loss, discuss concerns and build on strengths; providing opportunities for activities that support cognitive abilities; and providing support for family members. Creative arts therapies are an important feature. Art, music and dance/movement therapists staff the program and provide these therapies as part of the activities and support group sessions. Participants comment that they enjoy the camaraderie, appreciate the non-judgmental atmosphere, find it stimulating, and feel good about being involved in something to help themselves.
Mind Matters offers a monthly family support group, and participants and family members are provided supportive case management services.