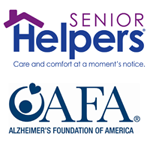 Alzheimer's and dementia awareness has made great strides in the past 10 years. There is a wealth of information available for family caregivers and health care professionals caring for and treating those with these diseases, but it can be difficult to pinpoint the methods that will make the most difference. ASA has partnered with Senior Helpers and Alzheimer's Foundation of America to present this three-part webinar series that boils down the overwhelming amount of information available to bring you salient, meaningful resources, techniques, and ideas that you can immediately implement with people you meet and work with everyday who are living with Alzheimer's and dementia.
This series is a great opportunity to earn CEUs while gaining valuable information that will help you in your work with older adults—all without leaving your desk. It's convenient and it's FREE!
Each of the webinars will be recorded and available for viewing for up to 30 days after the live presentation. Pre-registration is required to attend the live or the recorded webinars.
Click on a title below for more information and to register! 
Strategies to Help with Tough Issues: Driving, Bathing, and Managing Medications
*Includes FREE CEUs*
November 26, 2012 (Monday)
11:00 AM Pacific / 12:00 PM Mountain
1:00 PM Central / 2:00 PM Eastern
Learning to Live Life After the Diagnosis – What's Working and What's Not, and What to Do About It!
*Includes FREE CEUs*
Tuesday, January 8, 2013
11:00 AM Pacific / 12:00 PM Mountain
1:00 PM Central / 2:00 PM Eastern