Regional Networking Events are opportunities for ASA members to meet in person to discuss local trends, projects, initiatives and recent developments in aging. Some topics that have been addressed in the past include: Reframing Aging, Self-care for Professionals in Aging, Livable Communities, What's New in Dementia Resources, Technology and Aging and then local matters like, Aging Policy in Illinois and The Bridge Model. These generally take the form of informal presentations by local experts in aging and/or representatives of the aging population themselves. There is always time to socialize and network with coffee and pastries.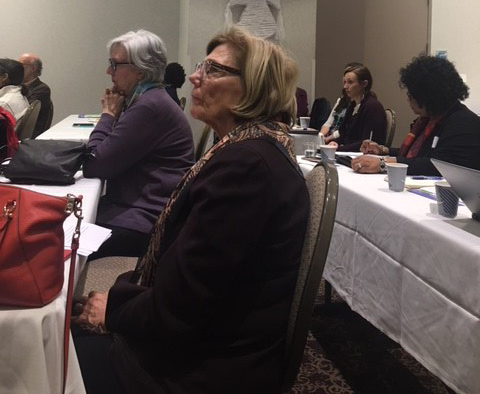 Local committees of volunteers choose the schedule of sessions (perhaps bi-monthly or quarterly), secure the location, invite the presenters and provide refreshments. ASA provides an announcement template for promotion by email, handles the online registration, and ships current membership information to the area liaison shortly before event. While educational in content, CEUs cannot be offered.
If you would like to start a series, or try just one event, in your area, please contact Jutka Mándoki, membership director, at 415.974.9630 or jmandoki@asaging.org.
Upcoming Events
ASA Chicagoland Roundtable
Older Adults and Technology: More than just a smart phone
Friday, October 4, 2019
8:30–10:30 am
Location 
Professional Building 
1725 W Harrison St
Searle Conference Center
Elevator II - 5th floor - 542 Brainard
Chicago, IL 60612
Not only does technology play a huge role in our society, it is constantly changing. Older adults often feel left out of these changes or left behind when the newest version of a phone or an app is produced. However, technology already plays a large role in the life of older adults. How older adults are introduced to technology and the different types can have lasting impacts on their health and their overall lives.
This session will look at many different aspects of technology and how it impacts the lives of older adults. Technology topics to discuss include privacy and HIPAA issues with websites and smartphone apps, software to support older adults changing physical and cognitive needs and also technology that can assist with helping older adults remain in their communities.
Discussion Objectives
Technology and older adults
How older adults utilize technology and adjust to its many changes
How technology can be used to improve quality of life for older adults and help some remain in their communities
Privacy concerns and HIPPA in regards to technology usage
Agenda
| | |
| --- | --- |
| 8:30-8:40 | Welcome/Review of Session (Tiffany) |
| 8:40-9:00 | Technology and Aging Overview (Kelly/Tiffany) |
| 9:00-9:25 | Panelist #1 (Tiffany) |
| 9:25-9:50 | Panelist #2 (Raymond) |
| 9:50-10:15 | Panelist #3 (Abbey) |
| 10:15-10:25 | Audience Q&A |
| 10:25-10:30 | Announcements |
Panelists:
Tiffany M Favers

Clinical Team Lead

Alzheimer's Association- Contact Center

 

Tiffany has been working with seniors since 2013 in varying capacities. Tiffany is passionate about the mission of the Alzheimer's Association and the work being done to help support families dealing with this difficult disease. Before joining the Alzheimer's Association, Tiffany was the Area Agency on Aging Director for the City of Boston. Tiffany has worked extensively with LGBTQ+ senior groups, helping to increase outreach and programming and decrease health disparities experienced by these groups. She is also a planning team member of the LGBT Aging Issues Network (LAIN) with the American Society on Aging.

 

Abbey Gartee
IT Staff Member
Howard Brown Health

Raymond V. Hall
Computer Services Coordinator
Howard Brown Health

Raymond is a professional trainer and consultant. Working as Computer Services Coordinator with Chicago Methodist Senior Services, Raymond provides classroom training and in-home technical support to older adults around computer, cell/smartphone and other device use. This work improves older adults' access to information, and skills which support their ability to remain engaged in their communities and in contact with family and friends. Raymond has worked with youth, older adults and other groups often considered underserved or fragile populations.

Kelly Rice
Program Manager for Intensive Community Care Services
Howard Brown Health

Kelly currently oversees the Ryan White Part A HIV medical case management program, the diabetes case management program and an LGBTQ focused aging health and wellness program at Howard Brown. In 2017-2018, she completed a comprehensive health-focused aging needs assessment for the aging LGBTQ Chicago population. Kelly is an active member in the Chicago LGBTQ community and serves on several committees and boards, including the Chicago LGBTQ Aging Network, the American Society on Aging (ASA) LGBT Aging Issues Network (LAIN) Council, and the ASA Chicago Roundtable planning committee.
Registration  is free, and requested, to attend. Only complete the application form if you have no record. Otherwise, please log in. For assistance with registration, contact Jutka at jmandoki@asaging.org.  
All ASA members are welcome at this free event.
Local contact for Chicago information only: Mary Lou Tomecek Baker, 312-942-2053