Regional Networking Events are opportunities for ASA members to meet in person to discuss local trends, projects, initiatives and recent developments in aging. Some topics that have been addressed in the past include: Reframing Aging, Self-care for Professionals in Aging, Livable Communities, What's New in Dementia Resources, Technology and Aging and then local matters like, Aging Policy in Illinois and The Bridge Model. These generally take the form of informal presentations by local experts in aging and/or representatives of the aging population themselves. There is always time to socialize and network with coffee and pastries.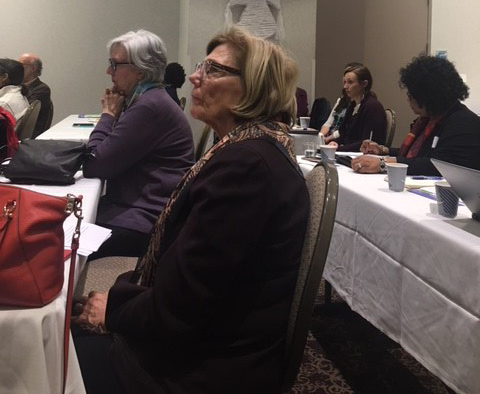 Local committees of volunteers choose the schedule of sessions (perhaps bi-monthly or quarterly), secure the location, invite the presenters and provide refreshments. ASA provides an announcement template for promotion by email, handles the online registration, and ships current membership information to the area liaison shortly before event. While educational in content, CEUs cannot be offered.
If you would like to start a series, or try just one event, in your area, please contact Jutka Mándoki, membership director, at 415.974.9630 or jmandoki@asaging.org.
Upcoming Events
ASA Washington, D.C. Roundtable
Barriers to Voting that African American and Hispanic Older Persons Experience
Tuesday, February 4, 2020
9:00 am – 11:00 am
Location: 
Community Room
Samuel J. Simmons NCBA Estates
2801 14th Street, NW
Washington, DC
This location is two blocks from the Columbia Heights Metro Station
Survey results of older persons, when analyzed by race, indicate that voter suppression is commonplace and that voting is routinely more challenging for older African Americans and Hispanic Americans than for their white counterparts. Suppressive laws and accessibility issues make voting more difficult for them. Many of these African Americans and Hispanics have difficulties with mobility, are unable to secure transportation to the polls, and have found polling places to be inaccessible. These issues alone can be difficult to navigate, but they are often further complicated by laws and policies that create barriers to voting, such as a required government ID to vote, expired IDs and out-of-date addresses, and required documentation.
Outcomes of the Roundtable:
-The audience will have a much greater awareness of the structural barriers to voting encountered by older African Americans and Hispanic older Americans. Is voter suppression fueling disenfranchisement nationwide for these minorities.
-What can be done to make it easier and improve the voting experience for African American and Hispanic older persons.
-How can we ensure that all older Americans have access to the voting booth. 
Moderator:
Barbara S Hoenig, MPH
Senior Consultant to CVS Health
Mature Workers & Workforce initiatives
Chair, Washington DC Roundtable
Panelists:
Karyne Jones
President & CEO, NCBA
Chair, ASA Board of Directors 
Hilary O Shelton
Director, NAACP Washington Bureau
Sr VP for Advocacy and Policy 
Sindy Benevides
CEO, LULAC (League of Latin American Citizens)
ASA Chicagoland Roundtable
Medicare Advantage and Community-Based Organizations: Opportunities and Challenges in Caring for People with Complex Needs  
Friday, February 7, 2020
8:30 am – 10:30 am CT
*Note: Location has been updated* 
Rush University 
Armour Academic Center
600 S Paulina St
9th floor - Room AAC 994
Chicago, IL 60612
Recent legislation provides new flexibility for Medicare Advantage (MA) plans to include additional "supplemental benefits" to people with Medicare who have chronic illnesses, and functional and health-related social needs. This offers new opportunities for MA plans and community-based organizations to partner in order to provide such services, and improve the health and wellbeing of people with Medicare and their families.
Our February 7 roundtable will explore various opportunities and challenges related to the expanded supplemental benefits from the perspective of Medicare, health plans, and community-based organizations, informed by research conducted nationally. There will also be opportunity to discuss progress and implications for older adults, people with disabilities, their families, and the organizations that support them in Chicagoland.
Panelists:   
Mary Kaschak
Executive Director
Long-Term Quality Alliance
Washington, DC
Mary Kaschak is Executive Director of the Long-Term Quality Alliance (LTQA), a 501(c)3 membership organization aimed at improving outcomes and quality of life for persons who are managing functional limitations, and their families. LTQA advances person- and family-centered, integrated long-term services and supports (LTSS) through research, education, and advocacy. Mary also serves as Executive Director of LTQA's affiliated organization, the National MLTSS Health Plan Association—an association of the leading managed care organizations (MCOs) that have Medicaid managed care contracts with one or more states and take risk for long-term services and supports (LTSS) provided under Medicaid. Mary joined LTQA and the MLTSS Association in 2018 with more than ten years of experience in aging and health policy, most recently as Deputy Director of the Aging and Disability Business Institute at the National Association of Area Agencies on Aging (n4a). At the Business Institute, Mary played a lead role in advancing the readiness and business acumen of community-based organizations (CBOs) to successfully engage in the design and delivery of integrated care systems for older adults and younger adults with disabilities. Prior to her time with the Business Institute, Mary worked with n4a in several other capacities, including Senior Program Manager of Capacity Building and Integrated Care, Program Manager of CBO Capacity Development, and Program Coordinator of Medicare and Benefits Outreach. Mary studied Gerontology at Miami University.
Dr Neal Fischer
Regional Vice President, Health Services
Humana - North Central Region
Neal C. Fischer, M.D., serves as the senior clinical officer for Humana's Medicare Advantage products across a nine-state region as well as the company's Medicare Medicaid Plan in Illinois, encompassing approximately 400,000 members.  Dr. Fischer leads the region's utilization management and case management programs, and provides clinical leadership for quality, provider engagement, value-based care, network development, sales, strategic planning, and numerous other health plan activities. Dr. Fischer grew up in Chicago's western suburbs.  He received his undergraduate degree from Stanford University, his medical degree from the University of Illinois, and his master of business degree from the Kellogg School of Management at Northwestern University.  He completed his medical training at the Cleveland Clinic Foundation and is board certified in internal medicine. Dr. Fischer began his medical management career at Rush-Anchor HMO in Chicago in the early 1990s and then advanced to medical leadership positions at CIGNA HealthCare of Illinois and WellPoint (Anthem) prior to joining Humana in 2009.
Gregg McAllister
External Affairs Liaison
Centers for Medicare and Medicaid Services
Moderator:
Bonnie Ewald
Associate Director, Center for Health and Social Care Integration
Rush University Medical Center
Bonnie Ewald is the manager of strategic development and policy for the Department of Social Work and Community Health at Rush University Medical Center in Chicago, IL. In this position, she leads several program development and policy advocacy initiatives related to integrating health care and social services at Rush. Bonnie is also the Associate Director of the Center for Health and Social Care Integration which is based at Rush and serves as a national convening and technical assistance hub to advance practices that break down barriers to health. Bonnie has her master's degree in public policy studies from the University of Chicago (2018), a post-graduate certificate in Sustainable Urban Design from Archeworks in (2013), and bachelors in mathematics and geography from the University of Wisconsin (2011).
For assistance with registration, contact Jutka at jmandoki@asaging.org. 
All ASA members are welcome at this free event.
Local contact for Chicago information only: Mary Lou Tomecek Baker, 312-942-2053