Start time
10:00 AM Pacific
End time
11:00 AM Pacific
Presented by the Parkinson's Foundation, as part of their Expert Briefings series.
Includes complimentary CEUs*
*This web seminar is approved for AoTA contact hours in addition to CEUs approved for all ASA web seminars
Parkinson's disease (PD) is complicated by a number of comorbid psychiatric symptoms that often overlap with the motor and other physical aspects of PD or may be caused by PD medications used to treat motor symptoms (e.g., impulse control disorders and dopamine agonists). This web seminar will focus on the overlap of PD's motor, cognitive and psychiatric aspects. Additionally, it will describe the features of comorbid psychiatric disturbances, including depression, anxiety and psychosis, along with general approaches to treatment.
Participants in this web seminar will be able to:
Understand the relationships between motor, cognitive and psychiatric dysfunction in PD over the course of the disease;
Understand the common psychiatric diagnoses seen in patients with PD; and,
Describe appropriate treatments for neuropsychiatric disturbances in PD.
Presenter: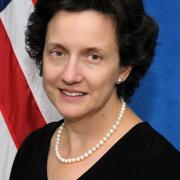 Laura Marsh, M.D., is a geriatric neuropsychiatrist whose clinical and research expertise focuses on the recognition of and treatment of psychiatric disturbances in patients with Parkinson's disease. Since 2009, she has been the executive director of the Mental Health Service at the Michael E. DeBakey Veterans Affairs Medical Center in Houston, Texas. Previously, she was director and principal investigator of the Clinical Research Program of the NIH-funded Morris K. Udall Parkinson's Disease Research Center at Johns Hopkins University School of Medicine.
PLEASE NOTE: This web seminar is being hosted by the Parkinson's Foundation, and registration will be handled through their website, www.pdf.org.
Questions about registration? Call the Parkinson's Foundation at 800-457-6676. 
Questions about CEUs? Call ASA at 415-974-9628.
Have technical issues? Call NetBriefings at 866-225-1532.