Start time
10:00 AM Pacific
End time
11:00 AM Pacific
Presented by the Parkinson's Foundation, as part of their Expert Briefings series.
Includes 1 complimentary CE credit*
*ASWB CE Credit Changes 2018: Beginning September 25, 2018, ASA will no longer be able to  issue ASWB CE credits for recorded web seminar attendance. You can only claim ASWB CE credit if you watch "Non-Motor Symptoms: What's New?" at 10:00 AM PT on January 15, 2019. We apologize for any inconvenience. This change is due to ASWB ACE Provider distance learning requirements.
**This web seminar is approved for AoTA contact hours in addition to CEs approved for all ASA web seminars
If you require ADA accommodation to participate in this web seminar, please contact Steve Moore at your earliest convenience to make arrangements – smoore@asaging.org
This web seminar will focus on the detection and effective treatment of non-motor symptoms beyond traditional Parkinson's Disease (PD) medications. The presenter will address how non-motor symptoms such as impaired sense of smell, sleep behavior changes, constipation and depression may be present years before the classic motor features of PD appear. Participants will take away recommendations on how to cope and live optimally with these non-motor symptoms.
Participants in this web seminar will be able to:
Identify that non-motor symptoms, such as impaired olfaction, REM sleep behavior disorder, pain, constipation and depression may be present years before the classic motor features of PD appear;
Identify that non-motor features frequently become the most troublesome features of PD as it advances; and,
Describe treatment other than traditional PD medications that may be needed for non-motor features of PD.
Presenters: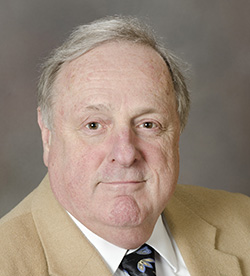 Ronald Pfeiffer, M.D., specializes in Parkinson's disease and other movement disorders. In addition to working with the Oregon Health & Science University (OHSU) Parkinson Center and Movement Disorders Clinic, he collaborates with other specialties at OHSU, including gastroenterology and the Nerve Center to study GI dysfunction and motility disorders as well as autonomic dysfunction. He also facilitates and oversees clinical trials for Parkinson's.
Target Audience: All
PLEASE NOTE: This web seminar is being hosted by the Parkinson's Foundation, and registration will be handled through their website, www.parkinson.org.
Questions about registration? Call the Parkinson's Foundation at 800-4PD-INFO (473-4636). 
Questions about CEUs? Call ASA at 415-974-9628.
Have technical issues? Call NetBriefings at 866-225-1532.