Start time
10:00 AM (Pacific)
End time
11:00 AM (Pacific)
Presented by Parkinson's Disease Foundation (PDF) as part of the Nurse Webinar Series
Includes complimentary CEUs

Parkinson's Disease is a complex disorder, and as such requires a complicated medication schedule for optimal symptom relief. Patients are challenged each day with the precise timing of frequently administered medications due to the short half-life of many Parkinson's medications. Function can be suddenly impaired if medications "wear off." Many patients deteriorate when transitioning to a hospital because of non-adherence to carefully titrated home schedules, which leads to a high rate of complications during hospitalization, and longer hospital stays. This web seminar will discuss medication adherence challenges faced by people with Parkinson's disease in the community and during hospitalization, and present two successful programs for improving medication compliance in the hospital setting.
Participants in this web seminar will be able to:
Discuss the medication adherence challenges faced by people with Parkinson's disease who live in the community.
Acknowledge the medication adherence challenges in the hospitalized person with Parkinson's disease.
Discuss examples of successful programs established to alleviate medication adherence issues.
Presenters

Ju Young Shin, Ph.D., A.P.R.N., A.N.P.-C., is an assistant professor of Nursing at the University of Delaware, and practices as a certified adult nurse practitioner at the University of Delaware Nurse Managed Primary Care Center. Her research interests are managing symptoms of Parkinson's disease, including medication adherence and chronic disease management in later life.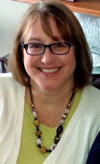 Joan Gardner, R.N., B.S.N. is the clinic supervisor at the Struthers Parkinson's Center in Minneapolis, and serves as coordinator of the National Parkinson Foundation (NPF) Center of Excellence at this location. Gardner coordinates the Edmund J. Safra Visiting Nurse Faculty program at Struthers Parkinson's Center.

Edie Simpson, R.N., C.N.R.N., is the host nurse coordinator for the Phoenix, Ariz., program of the Edmond J. Safra Visiting Nurse Faculty Program at the Parkinson's Disease Foundation.
Please Note: This web seminar is being hosted by the Parkinson's Disease Foundation, and registration will be handled through their website, www.pdf.org.
Questions about registration? Call the PDF at 800-457-6676.
Questions about CEUs? Call ASA at 415-974-9628.
Have technical issues? Call NetBriefings at 866-225-1532.