Start time
10:00 AM Pacific
End time
11:00 AM Pacific
Includes Complimentary CEUs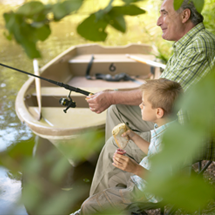 How does a diagnosis of Parkinson's disease in a family impact children, adolescents and young adults? Learn more about this important issue by joining a one-hour online seminar led by Elaine Book, M.S.W., R.S.W., Clinical Social Worker, Pacific Parkinson's Research Centre, University of British Columbia, Canada.
Participants in this web seminar will be able to:
Understand the issues and challenges commonly faced by children who have a parent living with Parkinson's disease;
Learn about current research into the impact of PD on children and adolescents;
Identify practical suggestions and possible solutions to help children and adolescents to develop good coping skills, and avoid any negative outcomes resulting from Parkinson's disease in the family; and
Explore and discuss the types of resources (use of social media, online resources, focus         groups) that might meet the needs of parents and children who are coping with Parkinson's disease in the family.
Presenter:

Elaine Book, M.S.W., R.S.W., is the Clinic Social Worker and Center Leader for the NPF Center of Excellence, the Pacific Parkinson's Research Centre, at the University of British Columbia in Vancouver, Canada.  Ms. Book has worked in the field of Social Work for over 25 years in a variety of community and hospital settings with an interest in the geriatric population.  She has worked with individuals, families and as a leader of support groups. She has become a leader in the PD community, serving as a speaker at support groups, a presenter at neurology meetings and a faculty member of the Allied Team Training Program of the National Parkinson Foundation. Ms. Book also coordinates a blog designed for neurological social workers. Her dedication to improving the lives of people with Parkinson's is greatly influenced by the determination of the individuals with PD she works with on a daily basis. Ms. Book earned her B.S.W. from the University of Manitoba and her M.S.W. from the University of British Columbia, with her thesis focusing on caregiver stress. She has continued to expand her training throughout her career, for example in cognitive behavioral therapy, advance care planning and social work instruction.
---
PLEASE NOTE: As this webinar is being hosted by the Parkinson's Disease Foundation, registration will be handled through their website. 
Questions about registration? Call PDF at 800-457-6676
Questions about CEUs? Call ASA at 415-974-9628
Technical issues? Call NetBriefings at 866-225-1532