Start time
10:00 AM Pacific
End time
11:00 AM Pacific
Presented by the Parkinson's Foundation, as part of their Expert Briefings series.
Includes Complimentary CEs
If you require ADA accommodation to participate in this web seminar, please contact Steve Moore at your earliest convenience to make arrangements – smoore@asaging.org
Parkinson's disease is unique to each person diagnosed, as symptoms ranging from motor and non-motor will vary per case. Given this range in symptoms, the treatment options – whether medical or surgical – will likely vary. In this webinar, Dr. Fernando Pagan will review advances in Parkinson's disease treatments for both motor and non-motor symptoms and will share how research is targeting the underlying pathology.
Participants in this web seminar will be able to:
Describe the pathology behind Parkinson's;

Describe Parkinson's as a motor and non-motor disease;

List classes of medical and surgical treatments for motor and non-motor symptoms; and

Describe how research is trying to target the underlying pathology
Presenter: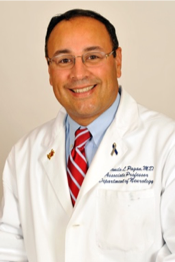 Dr. Fernando L. Pagán is a Professor and Vice Chairman in the Department of Neurology at Georgetown University Hospital. He received his medical degree from Georgetown University, completed an internal medicine internship and a Neurology residency at Georgetown University Hospital. In addition, Dr. Pagan completed a fellowship in Movement Disorders and Magnetic Resonance Spectroscopy at the National Institute of Neurological Diseases and Stroke within the National Institutes of Health. He is a board certified Neurologist. He is the director of the Movement Disorders Program and the Medical Director of the GUH National Parkinson Foundation Center of Excellence. He is the fellowship director for the clinical research fellowship in movement disorders at GUH. His special interests include Parkinson's disease, parkinsonism and other related disorders, ataxia, essential tremor, dystonia and tics. 
PLEASE NOTE: This web seminar is being hosted by the Parkinson's Foundation, and registration will be handled through their website, www.parkinson.org.
Questions about registration? Call the Parkinson's Foundation at 800-457-6676. 
Questions about CEs? Call ASA at 415-974-9628.
Have technical issues? Call NetBriefings at 866-225-1532.