Start time
10:00 AM (Pacific)
End time
11:00 AM (Pacific)
Presented by ASA's Network on Environments, Services and Technologies (NEST)
ASA Members: Register now for FREE
Not a Member? Join ASA or Register for this event for $49
Includes complimentary CEUs
This web seminar is based on the 2017 Aging in America Conference (AIA) workshop "The San Francisco Tech Council: A Unique Multi-Stakeholder Approach to Digital Inclusion."
Imagine your life without Internet access at home, a computer or tablet you know how to use, and someone to help when you run into problems. This is the plight of thousands of older adults and people with disabilities in San Francisco. While San Francisco is rightfully proud of its innovative culture, 30 percent of city residents ages 65 and older lack home Internet access, compared to 4 percent of people younger than age 45. The mission of the SF Tech Council is to advance digital inclusion for older adults and people with disabilities who, like all city residents, must have access to technology for work, healthcare, transportation, daily communication, entertainment and other purposes. Attend this web seminar to learn about the background, structure, goals and strategic initiatives of the Council, and how to start a Tech Council in your community.
Participants in this web seminar will be able to:
Understand the need for digital equality in their communities and the negative impacts of the digital divide;
Discuss a replicable model for creating a multi-stakeholder Tech Council in their communities; and,
Understand the foundation elements that make a multi-stakeholder initiative successful.
Presenters:
David Lindeman, Ph.D., is director of the Center for Information Technology Research in the Interest of Society (CITRIS) Health Initiative at UC Berkeley and director of the Center for Technology and Aging (CTA).

Anne Hinton is past executive director of the San Francisco City and County Department of Aging and Adult Services and serves as an AARP Livable Communities advisor and member of the Northern California /Nevada Alzheimer's Board of Directors.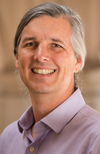 Scott Mauvais is director of Technology and Civic Innovation at Microsoft, where he works with local leaders to infuse technology into real-world systems to make cities better places to live, learn, work and innovate.