​
ASA Introduces "Future-Proof" Broadcast: COVID-19 Solutions
The novel coronavirus (COVID-19) pandemic has had a profound impact on societies across the globe, leaving our older adult population and those who serve them in a precarious position. To address this, agencies and organizations that work with older adults have had to work around the clock to address this issue, often reinventing their business models to continue to serve older adults and keep them, and those who work with them, safe.
We invite you to join ASA president and CEO, Peter Kaldes, as he hosts a series of conference calls with leaders in the field to share their strategies to cope with the challenges brought about by COVID-19. Participants will discuss what practices they have put in place that may be transferrable to other service providers across the country. They will offer practical tips and unexpected issues they successfully confronted along the way.
---
July 9, 10:00 AM  (PDT) | From the Frontlines: Providing Support Services to Older Adults in the COVID-19 Pandemic

Peter Kaldes will speak with Paul Downey, the President and CEO of Serving Seniors, about how COVID-19 has affected Serving Seniors and its ability to connect older adults to services, both short-term and into the future. Downey will address how his work has evolved since the pandemic, including specifically the impact upon those living in their low-income housing complexes, the homeless population they work with, and the volunteers that help to keep their programming on track.
---
Announcing Season Two of Future Proof: Equity and Justice
Premiering July 16 | Episodes drop every Thursday at 10 am PT
ASA believes work on racial justice can no longer remain at the margins for those of us who work to improve the lives of older people in this country. We plan on weaving it into the fabric of everything we do at ASA, including this new slate of Future-Proof broadcasts, which for the Summer season will center around Equity and Justice. Please tune in as Peter Kaldes speaks with experts in aging whose work intersects with racial injustice and inequity, such as Robert Espinoza, Denny Chan, Karen Lincoln, Larry Curley, and Ai-Jen Poo.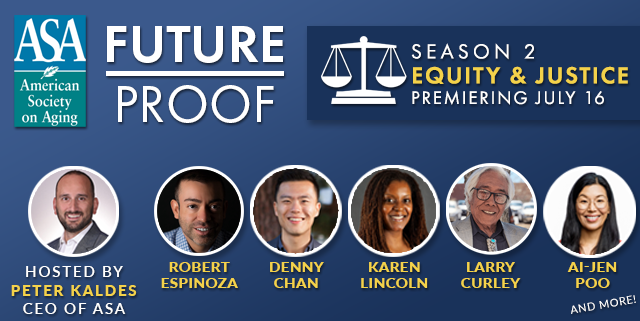 ​
---
Advancing Racial & Social Justice for Direct Care Workers
Thursday, July 16 | 10 am PT 
Peter Kaldes will talk with Robert Espinoza, Vice President of Policy for PHI, about issues of equity and justice and how they intersect with the work he does advocating for the direct care workforce and pushing policy change in long-term care. Espinoza will speak to how systemic racism has affected direct care workers and how that might be ameliorated, how immigration policy feeds into the mix of racial and social justice, legal protections for the LGBTQ workforce and his vision for a more equitable and just world, especially as it pertains to caring for older adults.
---
How to Ally with Older Adults Facing Systemic Discrimination & Marginalization
Thursday, July 23 | 10 am PT 
Denny Chan, senior staff attorney at Justice in Aging, will address civil rights for older adults and how the heterogeneity of this population means paying attention to the intersection between age and other protected identities. Chan will also address how COVID-19 has exposed disparities in our racist healthcare system, LGBTQ protections and underreporting in healthcare discrimination and the importance of educating oneself about civil rights protections in order to help others.
---
Where Research Meets Reality: On African American Elders, Equality, Equity, Health, Environment, Alzheimer's and the Pandemic
Thursday, July 30 | 10 am PT 
Karen Lincoln is an associate professor of Social Work and senior scientist in the University of Southern California Suzanne Dworak-Peck School of Social Work. She will address where her research on social and economic inequality and equity intersects with her community practice work with older African Americans who have Alzheimer's and other mental health conditions, as well as the impact of the coronavirus on this same population. And how she views the issues ofpolice brutality through the equity/equality lens.
Registration opening soon
 
---
Racial Disparities and Racist Reactions to COVID-19, Plus Aiming for Equity in the Navajo Nation
Thursday, August 6 | 10 am PT 
Larry Curley is the Executive Director of the National Indian Council on Aging (NICOA) in Albuquerque, New Mexico. Curley, who along with members of the National Tribal Chairmen's Association founded NICOA in 1976, was named a 2019 Influencer in Aging by NextAvenue. Peter and Larry will discuss issues of equity and justice and how they intersect with Larry's work with older adults in the Navajo Nation and how recently there have been resurgences in racism against members of the Navajo Nation in New Mexico due to COVID-19. 
Registration opening soon
 
---
Life on the Front Lines: Direct Care Worker Challenges, Immigration Issues and Quest for Equality
Thursday, August 27 | 10 am PT 
Ai-jen Poo is the co-founder and executive director of the National Domestic Workers Alliance, a nonprofit organization working to bring quality work, dignity and fairness to the growing numbers of workers who care and clean in our homes, the majority of whom are immigrants and women of color. In 2011, Poo launched Caring Across Generations to unite American families in a campaign to achieve bold solutions, meaning policy change, to the nation's crumbling care infrastructure. This has included a family caregiver benefit in Hawaii and the first long-term care social insurance fund in Washington State. She is author of "The Age of Dignity: Preparing for the Elder Boom in a Changing America." Peter and Ai-Jen will explore the issues of equity and justice and how they intersect with Poo's work around securing a living wage for domestic workers and quality of life for the elders they serve. 
Registration opening soon
---