Start time
10:00 AM Pacific
End time
11:00 AM Pacific
Presented by ASA's Network on Environments, Services, and Technologies (NEST)
ASA Members: Register now for FREE
Not a Member? Join ASA or Register for this event for $99
Includes Complimentary CEUs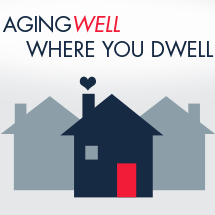 Most older adults want to remain in their homes as they grow older and their goal is to be active for as long as possible. Yet for many, their ability to do so will depend upon receiving support from family, friends and the community. This workshop will discuss topics relevant to older adults who want to age in place, including techniques and practices that are successful in other neighborhoods, communities and states.     
Participants in this web seminar will be able to:
Describe strategies to help maintain independence for an ever-expanding population of older adults;
Identify the most common fears of aging in place;
List best practices of partnerships and collaboration to help older adults age well in their homes; and,
Identify four suggested services developed by ASA's 2015 Aging in America Conference participants.
Presenters:
| | |
| --- | --- |
| | Arleen Joell is director of PATHS (Peers Available to Help Seniors), and executive director for CAFY (Community Advocates for Family & Youth). For the past 13 years Joell has worked with elders who were victims of crime, many who lived alone in their homes. She developed PATHS as a way to link older adults to one another as support and partners.  |
| | Shaunda P. Bellamy is president of Pickett Fences (Pickett Fences Senior Services Inc.). Bellamy has spent many years volunteering to help older adults, which led her to found Pickett Fences Senior Services, Inc. Pickett Fences' main priority is to meet the needs of our growing elder population.   |