Start time
10:00 AM Pacific
End time
11:00 AM Pacific
Presented by ASA's Mental Healthcare and Aging Network (MHAN) 
ASA Members: Register now for FREE
Not a Member? Join ASA or Register for this event for $49
Includes complimentary CEUs*
According to the National Survey on Drug Use and Health (2014), 6.5 million people ages 65 and older are affected by depression. Depression in older people is closely associated with substance abuse. In this webinar, we will examine the consequences of inadequate assessments of depression and substance abuse in older people. Untreated depression and substance abuse may result in cognitive decline and suicide.
Participants in this web seminar will be able to:
Recognize the scope of the problem of depression, substance abuse, and suicide ideation among older people;
Identify risk factors of depression and substance abuse in older people;
Increase communication skills when interviewing older adults at risk for suicide; and,
List national resources to support at-risk older adults.
Presenter: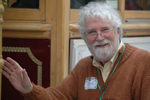 Dr. Patrick Arbore is the founder and director of the Center for Elderly Suicide Prevention and Grief Related Services, which is now a program of the Institute on Aging, San Francisco. Arbore has long been associated with "The Friendship Line," an accredited crisis intervention hotline/warm-line that he helped establish in 1973, and has been a longtime member of the American Society on Aging.   
*This web seminar is approved for AoTA contact hours in addition to CEUs approved for all ASA web seminars