Start time
10:00 AM Pacific
End time
11:00 AM Pacific
Part of the MindAlert Series, sponsored by MetLife Foundation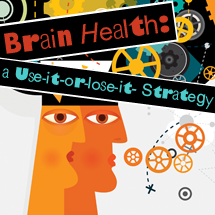 Building on what research about brain health has uncovered, this webinar will give you a non-clinical perspective on ways to maintain and even enhance cognitive function as we age. Discover the ingredients needed for a brain-healthy lifestyle and how to integrate them into your life in fun, engaging and creative ways. We will also discuss free and low-cost resources for yourself and/or the clients your serve.
Participants in this web seminar will be able to:
Explain in layman's terms the concepts of neuroplasticity and cognitive reserve and how to harness their benefits
List three practical ways to maintain brain fitness
Describe at least one brain fitness strategy that you can integrate into your life
Identify print, on-line and community brain-health resources
Presenter:
Hope Klein Levy promotes her personal and professional passion for positive aging through lifelong learning by developing and delivering customized programs in brain fitness, life review and health education. Hope has an MA in Gerontology and an MA in Special Education. She will be presenting ideas on maintaining cognitive vitality in fun and proactive ways.