Start time
10:00 AM Pacific
End time
11:00 AM Pacific

Presented by Parkinson's Disease (PD) Foundation, as part of their PD ExpertBriefings series
Register Now
Includes Complimentary CEUs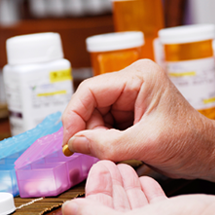 How can people living with Parkinson's Disease, their care partners and health teams maximize medications to ease symptoms and improve everyday life? Find tips by joining a one-hour online seminar led by Parkinson's Disease Foundation and Dr. Connie Marras of Toronto Western Hospital, Canada.
Participants in this web seminar will be able to:
List common eye-movement disorders in Parkinson's disease;
Describe common visual issues occurring in Parkinson's disease and treatments; and,
Obtain practical advice for coping with the vision issues of Parkinson's disease, at home and with the support of a healthcare team.
Presenter:

Connie Marras, M.D., Ph.D., is associate professor of Neurology, at the University of Toronto, Morton and Gloria Shulman Movement Disorders Centre, and the Edmond J. Safra Program in Parkinson's Disease, Toronto Western Hospital, Canada. In her clinical practice, Dr. Marras cares primarily for people living with Parkinson's disease. Dr. Marras serves as associate editor for the journal Movement Disorders and as vice-chair of the research ethics board of the University Health Network in Toronto.
---
PLEASE NOTE: This web seminar is being hosted by the Parkinson's Disease Foundation (PDF), and registration will be handled through their website, www.pdf.org.
Questions about registration? Call the PDF at 800-457-6676.
Questions about CEUs? Call ASA at 415-974-9628.
Have technical issues? Call NetBriefings at 866-225-1532.