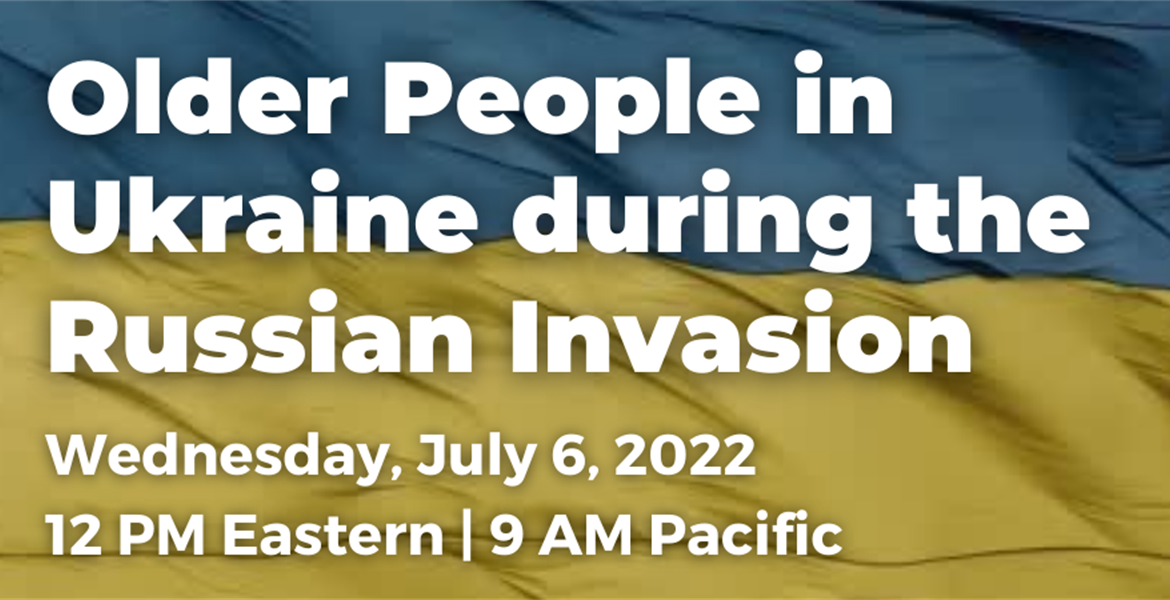 Grantmakers in Aging in collaboration with HelpAge USA and the American Society on Aging invite you to a webinar.
Please join us for an expert discussion with Ukrainian aging specialist Dr. Alexandre Sidorenko and HelpAge staff working in Ukraine who will discuss the significant impact Russia's war has had on older people in Ukraine and what steps funders and advocates can take to ensure immediate and longer-term protection and support for this at-risk population.
Background
Ukraine has the largest number of older people affected by armed conflict in the world. Over 25% of Ukraine's population is over 60. They have experienced and continue to face threats to their lives, safety, health, and well-being. These include indiscriminate and targeted attacks, torture, destruction and looting of their property as well as life-threatening shortages of food, water, medicines and medical care. Millions have fled to safety, while others remain in conflict areas because they cannot or do not wish to leave their homes and familiar surroundings.
About Dr. Sidorenko
Dr. Alexandre Sidorenko is an expert in national and international policy on aging. His current assignments and duties include: Senior Advisor, European Center for Social Welfare Policy and Research (Vienna, Austria); International Tutor, International Institute on Aging (United Nations – Malta); Member, HelpAge International Board of Trustees (London, UK), Member, Societal Advisory Board for the Joint Programming Initiative More Years, Better Lives (European Union). Previously he served as the Chief of the Population Unit, United Nations Economic Commission for Europe (Geneva, Switzerland, 2010); Head of the United Nations Program on Aging (Vienna – New York, 1988-2009). Within the UN, he acted as Coordinator of the International year of Older Persons (1999). He also coordinated substantive preparations of the Second World Assembly on Aging, including drafting the Madrid International Plan of Action on Aging, and the global follow-up activities of the Assembly.
About HelpAge in Ukraine
HelpAge has been working in Ukraine since the initial Russian incursion in eastern regions in 2014 providing life-saving aid, home and community-based services, and psychosocial support. HelpAge expanded its operations since February to respond to the urgent needs of older people impacted by Russia's full-scale invasion, including those displaced in Ukraine and seeking refuge in other countries, as well as those who remain in their homes. This includes provision of food, cash, hygiene items, beds and linens, psychosocial support, and accessible information about other aid and services.