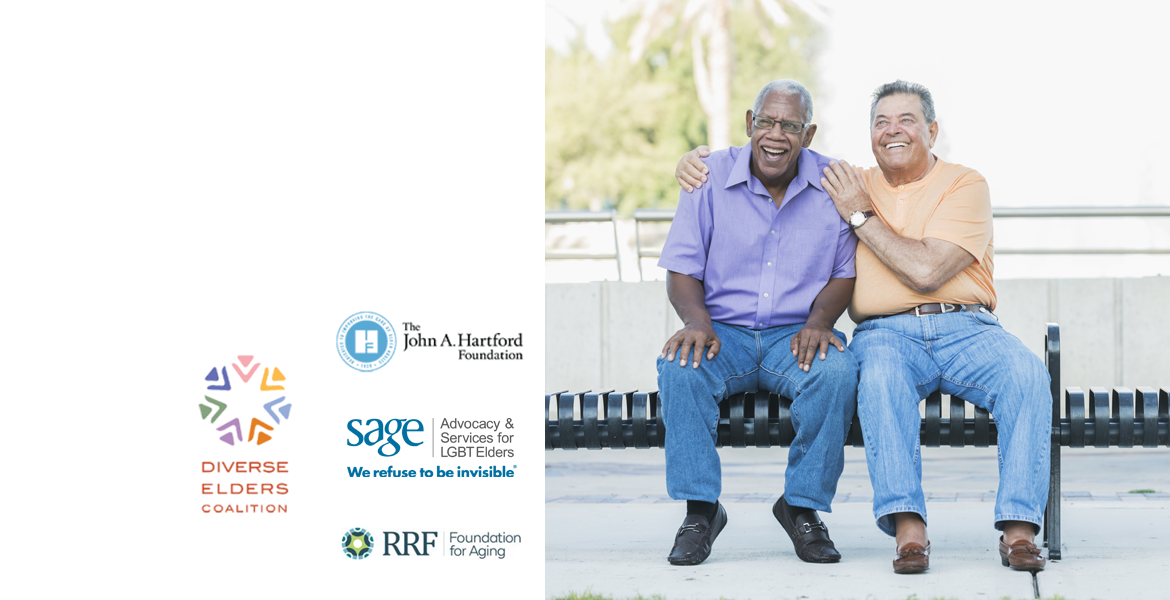 11:00 AM Pacific
12:30 PM Pacific
Sponsored by Diverse Elders Coalition
Includes complimentary CEs
Please note: If you attended this event previously, you cannot apply for CEUs again.
To request speech-to-text captioning during this event, please contact us.
This webinar will help providers further their understanding of the experiences of LGBT caregivers and improve their multicultural capacities to meet caregiver's needs. This webinar is part of the cultural competency training curriculum created by the staff of the Diverse Elders Coalition and its six member organizations, with the support of a grant from The John A. Hartford Foundation. Much of the research and many statistics cited in the training were the result of a 15-month planning grant, during which the coalition completed a literature review, a survey of diverse family caregivers and a series of focus groups with family caregivers in diverse communities. The research was conducted nationwide, in eight languages, and was led by the older adults and caregivers represented by the coalition.
Participants of this webinar will be able to:
Identify and address the unique needs and caregiving realities of LGBT caregivers;
Gain an understanding of how culture impacts LGBT caregivers' perceptions of care and their health outcomes; and,
Develop skills to deliver LGBT-competent, person-directed care to improve health outcomes among LGBT caregivers.
Presenters:
| | |
| --- | --- |
| | Sadiya Abjani is the director of Learning and Equity at SAGE. She is a native Texan, and has a Bachelor's in Islamic Studies and English, as well as significant experience in curriculum design, at the University of Texas at Austin. Sadiya is responsible for content development, online learning and training delivery for the SAGECare cultural competency training program through SAGE, as well as acting as a consultant for SAGE National on equity considerations in their external work. |
| | Lauren Pongan, (she/her) is the Diverse Elders Coalition national director. She is a strategic thinker, creative problem solver and connector who loves building community. She is a storyteller and writer who understands the power of a well told story to shift culture and policies. Lauren designs and implements strategies that strengthen community-based organizations' and leaders' mastery of policy, advocacy and communication for social impact. She believes in centering diverse communities' experiences and expertise in building their own solutions. |