10:00 AM Pacific
11:00 AM Pacific
Includes one complimentary Continuing Education (CE) credit.
To request speech-to-text captioning during this event, please contact us.
Parkinson's disease (PD) is a complex condition that includes a variety of symptoms. Oftentimes it is thought that PD only impacts a person's movement; however, there are many non-movement symptoms that people with Parkinson's experience as well. This webinar will discuss these symptoms and focus on the difficulties people can develop when it comes to mobility. More importantly, education will be provided on how to assist someone with PD while caring for them at home. Participants will learn strategies ranging from verbal instruction to physical assistance. Many strategies will focus on how to promote better movement to increase the safety of the client and the caregiver in the home.
Participants in this webinar will be able to:
State common motor and non-motor symptoms in Parkinson's disease (PD)
State special considerations for cognitive impairment
Recognize common movement presentations in advanced PD
State strategies to assist with movement
Identify common assistive devices for walking
Presenters: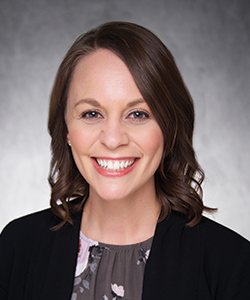 Stephanie Evans, DPT, joined the outpatient rehabilitation team at University of Iowa Health Care in 2013. Her focus is on the treatment of neurological conditions, with an emphasis on Parkinson's disease. Evans staffs the interdisciplinary Parkinson's clinic at the University of Iowa, a designated Parkinson's Foundation Center of Excellence. Also an adjunct faculty member of the University of Iowa's Doctor of Physical Therapy program, she lectures on basal ganglia disorders and assists with the laboratory for the neuromuscular therapeutics course.