Start time
10:00 AM Pacific
End time
11:00 AM Pacific
Part of the Aging and Disability Business Institute Series—a Collaboration of n4a and ASA.
Includes complimentary CEs
The current healthcare system does not adequately meet the needs of older adults with complex medical and social needs, which are intimately related. Despite mounting evidence that supports the integration of medical and social models of care, for health plans or social service providers, the transition to a more comprehensive delivery system has not been simple or intuitive. Care often remains uncoordinated and fragmented for older adults, specifically for those eligible for both Medicare and Medicaid (dual eligibles).
This web seminar will provide an overview of The SCAN Foundation (TSF) report, "A Blueprint for Health Plans: Integration of CBOs to Provide Social Services and Supports." The report examines the opportunities and challenges health plans face when integrating social services and supports and partnering with community-based organizations (CBO). The presentation is based on interviews with CBOs and information obtained during a strategic discussion with health plan leadership. These interviews and additional research lead to the development of a roadmap outlined in the TSF report for how plans can develop networks that reflect members' social and medical needs, and highlight the important role that all entities that serve this population have in working to achieve a more person-centered system of care.
Participants in this web seminar will be able to:
Identify best practices for sustainable CBO and health plan partnerships;

List

the regulatory and operational challenges associated with CBO and health plan partnerships

; and,

Describe

the building blocks involved in the development of networks that integrate social services and supports

.
Presenter: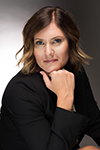 Athena Chapman, M.P.P., is president of Chapman Consulting, where she provides strategic planning, meeting facilitation and organizational support to a variety of healthcare-related organizations, based on her experience working for the Centers for Medicare and Medicaid Services, the Department of Health Care Services and as the vice president of State Programs for the California Association of Health Plans.

The Aging and Disability Business Institute is funded by:
The Administration for Community Living
The John A. Hartford Foundation
Partners:
National Association of Area Agencies on Aging (n4a)
Independent Living Research Utilization/National Center for Aging and Disability
Elder Services of the Merrimack Valley/Healthy Living Center of Excellence.
The Evidence-Based Leadership Council
Learn more about The Aging and Disability Business Institute at www.aginganddisabilitybusinessinstitute.org