10:00 AM Pacific
11:00 AM Pacific
Part of the Aging and Disability Business Institute Series—a collaboration of n4a and ASA
The time is ripe for aging and disability community-based organizations (CBOs) to leverage their expertise into fruitful financial relationships with healthcare partners. New payment policies that mandate value and accountability have opened a crack in the healthcare reimbursement wall, and CBOs are poised to climb through. But to take advantage of these new opportunities, CBOs will need to take a hard look at themselves, and make sure that they can adapt their organizational culture to an often unfamiliar world of contracting, quality measurement, data analysis and other issues that are standard operating procedure for healthcare players.
This web seminar will highlight two successful Massachusetts CBOs that have deftly navigated the shift in thinking necessary to succeed in this brave new world of integrated social and medical care. Presenters from Elder Services of the Merrimack Valley (a AAA) and Northeast Independent Living Program Inc. (a CIL) will describe challenges and strategies around preparing and persuading staff, thinking about services, costs, and administration in new ways, understanding infrastructure needs, working with new partners, and more. Tune in to learn how to push beyond the growing pains of culture change, and to embrace the transformation process!
Participants in this web seminar will be able to:
Describe why culture change is necessary for aging and disability CBOs to succeed in healthcare partnerships;
List strategies that a CBO can use to make an organizational pivot toward healthcare integration less disruptive, more manageable and more likely to instill staff buy-in; and,
Identify the contracting and business development activities that underlie any effective and beneficial CBO-healthcare relationship.
Presenters: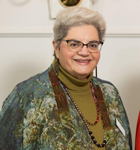 Rosanne DiStefano has since 1985 been executive director of Elder Services of the Merrimack Valley, Inc. (ESMV). ESMV is a private nonprofit organization known for its innovation and leadership in aging policy and community-based programs. DiStefano has been a national leader offering technical assistance in building the business acumen of CBOs, and a pioneer in developing contractual relationships with healthcare providers locally.

June Cowen Sauvageau has since 2008 been executive director and CEO of the Northeast Independent Living Program Inc., a nonprofit, cross-disability, Independent Living Center serving the Northeast area of Massachusetts. Previously, she was a Senior Project Manager at Massachusetts General Hospital, in the Quality Management and Education Dept. of the Imaging Operations Division.
is funded by:
The Administration for Community Living
The John A. Hartford Foundation
The Gary and Mary West Foundation
The Colorado Health Foundation
The Marin Community Foundation
Partners:
National Association of Area Agencies on Aging
Independent Living Research Utilization/National Center for Aging and Disability
American Society on Aging
Partners in Care Foundation
Elder Services of the Merrimack Valley/Healthy Living Center of Excellence.
Learn more about the The Aging and Disability Business Institute.